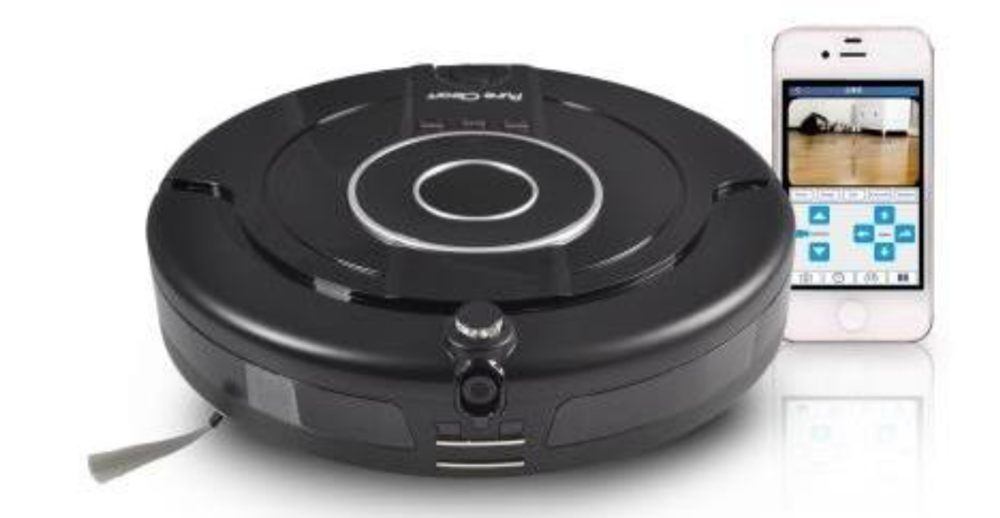 One of the few home automation product categories that I find really useful is home robotics, particularly with robot vacuum cleaners. I've owned robot vacuums since the days of the first Roombas, and they're perfect for tidying up rooms while getting other work done. Pyle Audio is moving into this space today with the new $289.99 Smart Robot Vacuum with Built-in Camera, which features not only six different cleaning modes, but an HD camera that can show you — via an iPhone app — what just got cleaned up under that couch!
As a robot vacuum owner, I can see a lot to like about Pyle's Smart Robot Vacuum. There are twin side brushes that are quite long, perfect for getting into corners that most other robot vacuums leave untouched. At 3.4 inches tall, the Smart Robot Vacuum can squeak under a lot of beds, couches and chairs that would block competing robots.
The six cleaning modes represent a spectrum of ways that people want their homes cleaned. Automatic clean just goes off and does the job, while corner clean concentrates on those spots that are usually problematic for robot vacuums. Concentrated clean is great for cleaning up spills, shadow clean looks for those shadowed areas (under beds and such) and cleans them up, and manual clean provides a way to "drive" the robot vacuum via the app and video. Finally, there's a mode called "reservation clean" that lets users set the Smart Robot Vacuum to operate at the same time each day.
The smartphone app is a great idea, making it simple to change the direction of the device, figure out what room it's in, and set cleaning schedules — even when you're away from home. I'm personally looking forward to seeing how Merry & Pippin, my two cats, look from the viewpoint of the HD camera on the Smart Robot Vacuum!
Apple World Today will have a review of the Pyle Audio Smart Robot Vacuum soon.