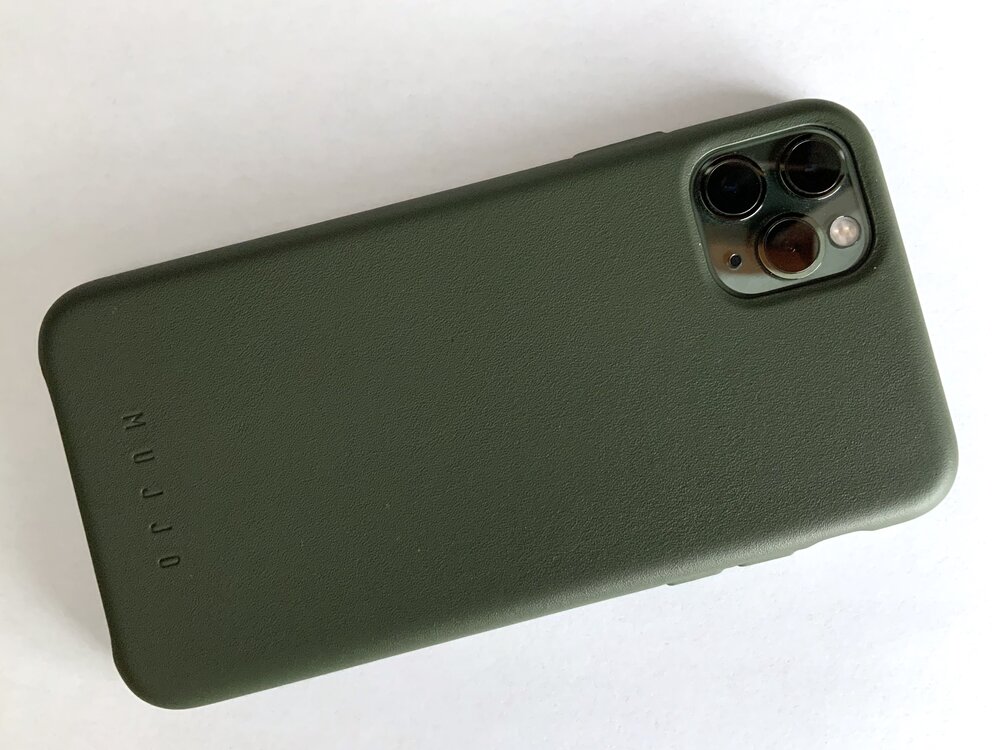 If there's one thing I love about being a tech blogger, it's that I get to review some amazingly good products. A perfect case in point: the new Mujjo Full Leather Case for iPhone 11, iPhone 11 Pro and iPhone 11 Pro Max. The Full Leather Case I'm reviewing today is for the iPhone 11 Pro Max (US$46.19 / €41.24), and it continues the legacy of finely crafted accessories from Mujjo.
Design
The Full Leather Case actually comes in two different styles — as a regular case and as a wallet case — and in five different leather colors — Tan, Black, Monaco Blue, Slate Green and Alpine Green. Since I own the Midnight Green edition of the iPhone 11 Pro Max, I decided to go with the Slate Green.
Each case is wrapped with full-grain leather with a microfiber interior that's easy on your phone's surfaces. The buttons (volume and power) are covered in leather as well, and the bezel extends 1mm above the iPhone screen to help protect it from being scratched when placed face-down on a surface.
I've mentioned numerous times before that I love the look and feel of leather on my iPhone cases, but it's not the material for everyone. Leather wears and gets a patina over time that gives each case a unique character. If you're the type of person who wants a case that's glossy, scratch-free, and more protective, then a Mujjo Full Leather Case should not be your first choice.
Mujjo specializes in using leather for its products, and the care taken in producing products like this case and the Mujjo Touchscreen Gloves we recently reviewed shows in the fine details.
Function
While it will keep the back and sides of your iPhone 11 Pro scratch-free, this isn't a case for hikers, rock climbers, or anyone else who might drop an iPhone in the great outdoors. If you're like me and your phone spends most of its time in a pocket or on a desktop, then the level of protection provided is more than adequate.
For the most part, the true functions of the Mujjo Full Leather Case are to provide a better grip than the glassy surface of the "naked" iPhone, to offer everyday protection, and enhance the look of the iPhone. This case, unlike most others, truly enhances the look of the iPhone 11 Pro.
Conclusion
The Mujjo Full Leather Case is a finely-crafted addition to any iPhone 11 that, like a fine wine, will improve with age. The case is a good value for the money and the looks are such that you'll find yourself being asked where you got it.
Apple World Today Rating (out of 5 stars): ★★★★★
Did you like this review? Consider supporting Apple World Today on Patreon!
Become a Patron!