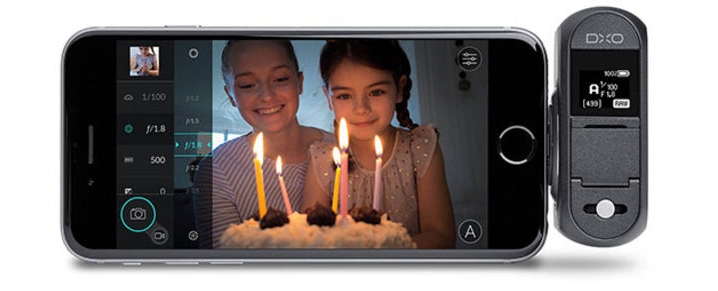 While the cameras built into our iPhones and iPads are getting better every year, they're no match for a digital SLR camera with a much better sensor. What if you could turn your iPhone or iPad into a camera that rivals most DSLRs? You can with the DxO ONE, and we have it on sale for $379.99 — that's a 24% savings on the regular $499.99 price.
Get some pointers on how to get started with DxO ONE in this helpful video:
Wired said "The DxO ONE lets you take that leap to large-lens photography without dithcing the versatility of your phone," while The Wall Street Journal said that "The DxO ONE satisfies mobile photographers' dreams of a pocket-sized connected camera that can match many of the pro capabilities of a digital SLR camera." Check out these specs:
Sensor: 1″
Megapixels: 20.2
Max aperture: f/1.8
Fixed focal lens: 32mm
Files: RAW, JPEG
Dimensions: 2.66″ x 1.92″ x 1.03″
Battery life: up to 200 images
The iPhone X, with the best possible camera built into an Apple product, only captures 12 Megapixels and has a small smartphone sensor. The 1-inch sensor used in DxO ONE is better than those used in a lot of DSLRs.
Utilize a wide range of creative tools, such as artistic blur, timelapse, or underwater photography
Save photos to your phone & edit RAWs directly w/ apps like Adobe Lightroom & Mobile
Take sharper photos w/ a fast f/1.8-f11 aspherical lens & extra small 1-inch format 20.2MP sensor
Handle shutter speeds between 1/20000ths of a second & 30 seconds
Share photos instantly from your iPhone or iPad
This sale ends soon, so save yourself $120 today for a camera that will blow away your expectations of what you can capture with a smartphone.
Like this deal? Consider supporting Apple World Today with a $5 monthly Team AWT membership.