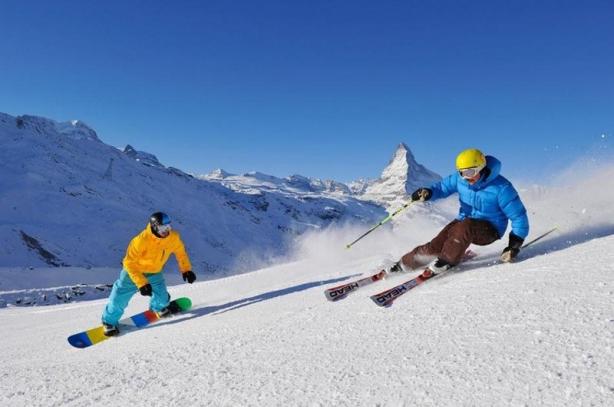 Finally, the last day of February… Today's podcast gives us stories about competition in the tech biz, as well as an upcoming IPO and a new use for the Apple Watch Series 3:
Google is taking on Slack with its new Hangouts Chat for G Suite
Move over, Google Pixel 2 – although you claim you're the best smartphone camera, Consumer Reports puts the iPhone X, iPhone 8 and iPhone 8 Plus atop the smartphone camera heap
Spotify is planning on a $1 billion IPO soon
Your Apple Watch Series 3 can now track your skiing or snowboarding activities
The text version of the podcast can be read below. To listen to the podcast here, click the play button on the player below. Apple News readers need to visit Apple World Today in order to listen to the podcast.
Text Version
This is Steve Sande for Apple World Today, and you're listening to the AWT News Update podcast for Wednesday, February 28, 2018. It's nice to know that we're finally getting out of February and into the month where we'll be back on Daylight Savings Time and have the first day of Spring!
Google tries to compete with everybody on everything, so this news item isn't surprising. The company is taking on collaboration tool Slack — which is used by the Apple World Today team, by the way — by adding Hangouts Chat to business customers of its G Suite service starting next week. This will let team members collaborate in chats online. Employees in a business can talk to each other or to a specific team, pull conversations into special chat rooms, and so on. If team members are using other tools that are part of G Suite, like Docs, Sheets and Slides, they can collaborate with each other on those documents. Google's trying to one-up Slack by adding 25 different chatbots that handle such tasks as finance, CRM, project management, and Human Resources. One of the powerful features of Slack is its integrations with hundreds of services, and sure enough, Google's already letting developers build integrations for Hangouts Chat. A Hangout Chats app is already available in the App Store for iOS, hopefully we'll see a macOS client soon.
You know all of those TV ads during the Olympics where Google claimed that the Pixel 2 phone had the best camera available in a smartphone? Well, Consumer Reports would beg to differ. It ranks the Apple iPhone X, iPhone 8 and iPhone 8 Plus in the 1, 2 and 3 spots on an updated list of the Best Smartphone Cameras published today. The Google Pixel 2 isn't even on the list, nor are the recently announced Samsung Galaxy S9 models. The top Samsung phone is the Galaxy S8+ in fourth place. So why is this a big deal? Well, Consumer Reports tends to be quite critical of Apple, so it's surprising to see that these tests — which most likely include a bit of subjective analysis of photos taken with each smartphone — place the Apple phones on top of the heap.
The biggest competitor to Apple Music is Spotify, and it apparently filed for an initial public offering late last month. The company's listing has now become public, and it turns out that Spotify is going for a direct listing rather than a traditional float. The direct listing means that Spotify will not be doing a road show to drum up support for the IPO, nor will it be hit with some of the typical fees for an IPO that are usually charged to new public companies. Spotify is apparently asking for $1 billion in the IPO, and it could begin trading by the end of March if everything falls into place. A recent music publisher lawsuit asking for $1.6 billion could put a possible stop to the IPO. Spotify currently has about twice the number of paid subscribers as Apple Music.
Finally, any skiers or snowboarders can finally use the Apple Watch Series 3 to track their activity on the slopes. Announced today, the watch works with the Snow, Slopes, Squaw Alpine, Snocru and Ski Tracks apps, which will now move data to the Health app and give you credit towards your Activity rings. The metrics tracked include total vertical descent and horizontal distance, number of runs, average and maximum speeds, total time spent, and calories burned. 
That's all the news for today – join me tomorrow afternoon for another edition of the AWT News Update.