Apple has filed for a patent (number 20180267584) for "integrated inductive charging in a protective cover." It hints at future iPad covers with wireless charging. Once I would have thought it involved AirPower, but Apple's long-promised wireless charger seems to have vanished into the void.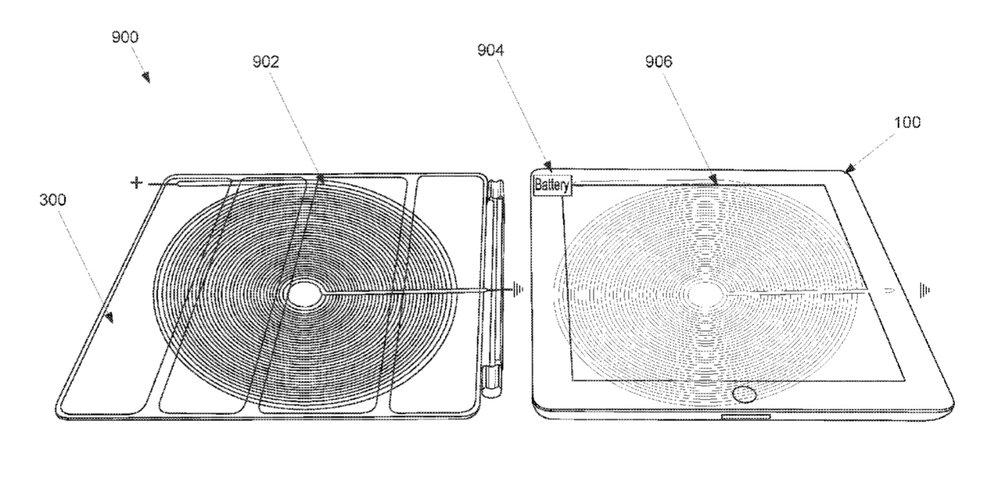 The invention involves use of multiple sensors in combination to confirm a status of an accessory device in relation to an electronic device. The accessory device would most likely be a Smart Cover for the iPad.
In the patent filing, Apple notes that there are handheld computing devices such as the iPad can be configured so that a substantial portion of the electronic device takes the form of a display used for presenting visual content leaving little available space for an attachment mechanism that can be used for attaching an accessory device or a cord that can be used to provide power for that matter.  Although a variety of standards have been developed for providing wireless communication with electronic devices, these devices continue to be plagued with a need for corded power supplies. 
<!— code from sekindo - Appleworld.today In-Article - outstream —>

<!— code from sekindo —>
Typically, each electronic device requires a separate power supply cord. These cords are a burden to use, store and carrying around as needed. Cords can be unsightly and substantially hinder portable device mobility.  Apple says a method of delivering useful power to a portable computing device "that is both efficient and does not distract from the inherent aesthetics of the tablet device is desired."
Of course, Apple files for — and is granted — lots of patents by the U.S. Patent & Trademark Office. Many are for inventions that never see the light of day. However, you never can tell which ones will materialize in a real product.