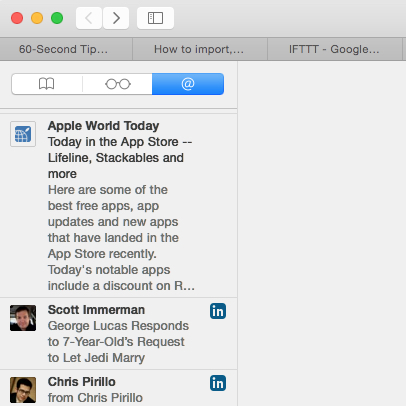 Think that you need a separate RSS feed reader app or service to keep up with the latest from your favorite websites? You don't! Safari in OS X 10.10 Yosemite and iOS 8 features a way to subscribe to RSS feeds through Shared Links, which is normally used to see what links your friends are sharing on social networks. In this 60-second tip, we take you through the process for both OS X and iOS. The text version of this tip follows the video.
Text Version
Today's 60-second tip looks at a quick way to follow the news feeds for your favorite websites in Safari, without the need to use a separate RSS reader app. 
In OS X 10.10 Yosemite, open Safari and visit the website you wish to follow. Click the open sidebar button, then click on the Shared Links button – it looks like an "at sign". This usually shows links shared by people or organizations you follow on Twitter and other social networks. At the bottom of the sidebar is a Subscriptions button. Click it. 
To add the current website's RSS feed to Safari's shared links, just click the Add Feed button, then verify by clicking the Add feed button in the dialog that appears. Now a short description of each post will appear in the Share links list.
This feature works equally well in iOS 8. On this iPhone, we'll begin by visiting a website we wish to subscrbe to. Next, tap the bookmarks button, then the shared links button. At the bottom is a Subscriptions button. Tap it, then tap the Add Current Site button at the bottom before returning to the website by tapping done. Now all updates to the website appear in the list of shared links. To remove a feed subscription, tap Subscriptions, then tap the red minus sign button next to the feed you wish to remove.