ZAGG's $129.99 Slim Book Go is a fine combo/keyboard case for the iPad Pro with some outstanding features and a couple of drawbacks. 
The ultra-slim detachable keyboard and case provides your iPad with laptop-style keys, an Apple Pencil holder, and multi-pairing capabilities. ZAGG makes models for the 11-inch iPad Pro and one for the 12.9-inch Apple tablet. I tested the latter.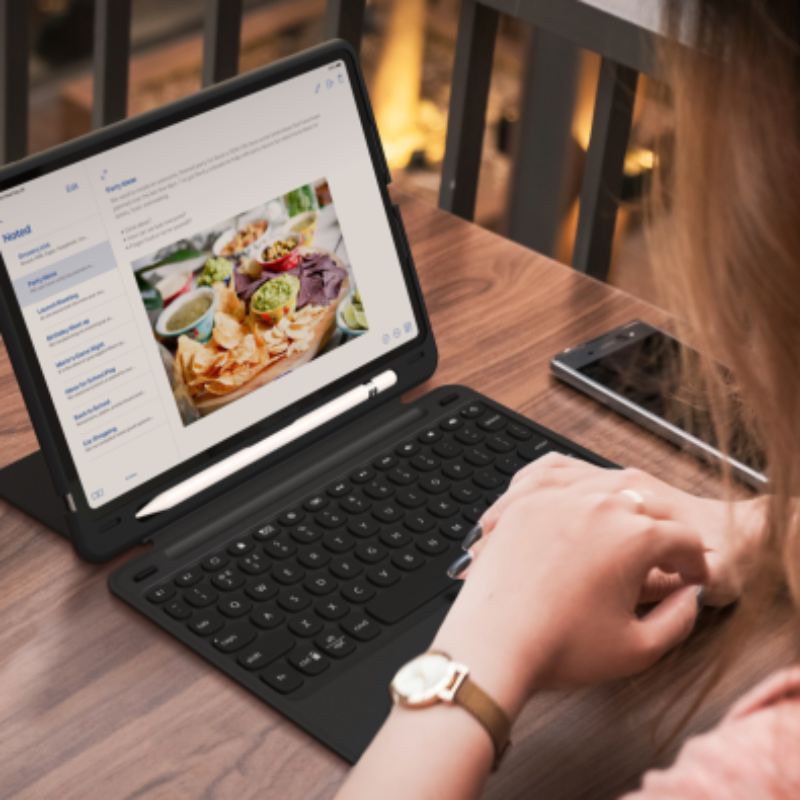 The detachable keyboard connects with the iPad Pro via Bluetooth (seems like few companies are taking advantage of Apple's Smart Connector port, which seems a shame). Unlike Apple's Smart Keyboard Folio, the ZAGG product's laptop style keys (which are full-sized!) are available in seven backlit colors and provide shortcut keys for iOS controls, such as launching Spotlight and adjusting volume levels.
The reverse kickstand, which moves with a certain amount of stiffness, allows you to adjust the screen angle for typing, drawing, or watching videos. Speaking of drawing, the Slim Book Go is very Apple Pencil friendly.
There's a cutout for the stylus ….. er, pencil …. to magnetically attach to the iPad Pro for charging, as well as a pocket on the opposite side to securely hold the pencil when you're working with it.
For all its flexibility, the 11.5 x 9.6 x 0.8 inch Slim Book Go adds some heft to the iPad Pro. If size and true slimness what you desire, Apple's Smart Keyboard Folio, adds little size or weight to the iPad Pro. That said, the Slim Book Go comes in two parts: the case and the keyboard. If you don't need the physical keyboard, you can easily detach it.
The Slim Book Go can, via Bluetooth, connect to two different devices simultaneously. You may find this handy, but it's a feature I don't use.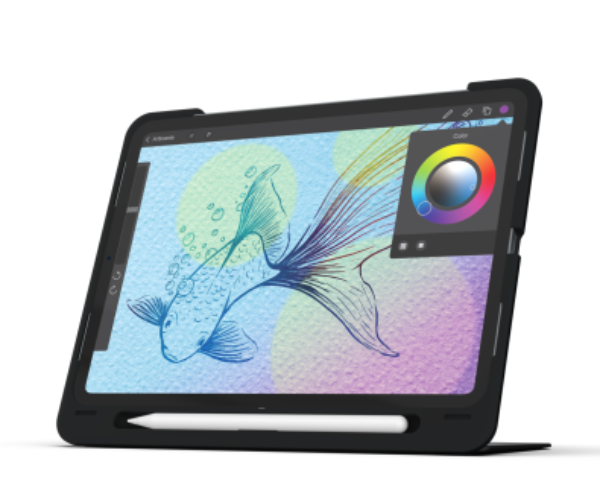 Initial setup requires pairing the keyboard to the iPad Pro, but the process is seamless, though you may have to charge the ZAGG divide first. Charging the Slim Book Pro requires a USB-C cable, the same type of cable used to charge the iPad Pro. I expected ZAGG to include one in the box, but it didn't.
The company says that battery life for the Slim Book Go keyboard is one year based on one hour of per day with backlighting enabled. I'll take their word for it, as I've only been using the keyboard for slightly over a week.
The keyboard has a nice tactile feel and feedback — not too hard nor too soft. The keys are rounded. I thought that would take a bit of adjusting to, but it didn't. 
If want to use the iPad Pro as a laptop alternative, the Slim Book Go streamlines the process with its solid keyboard, Apple Pencil support, and protective case.
Apple World Today Rating (out of 5 stars): ★★★★