Late last year, accessory manufacturer ZAGG hit the market with a folding keyboard targeted at "phablets" like the iPhone 6 and 6 Plus as well as the larger Samsung smartphones. The US$69.99 ZAGG Pocket Keyboard received a lot of attention at CES 2015, and for good reason.
Specifications:
Dimensions (folded): 8.75 x 2.125 x .5625 inches (22.2 x 5.4 x 1.43 cm)
Weight: 6.8 ounces (193 grams)
Design:
The brilliance of the ZAGG Pocket Keyboard is in the design. Many folding keyboards have chosen to fold from the sides to the center, meaning that the keyboard usually has a space in the center to accommodate a hinge mechanism and that it's still quite wide. For example, an iWerkz folding keyboard I have (see photo below for comparison) is almost 6 x 3.5 inches (15.2 x 8.9 cm) in size.
ZAGG chose to look at the keyboard a bit differently, putting the hinge in between the A – L and Z – ? rows. The result is that the keyboard — complete with stand for your iPhone — folds up tightly and can be placed into a blazer pocket with ease.
As the ZAGG Pocket Keyboard is designed to work with a variety of smartphones and phablets, not just with the iPhone or iPad mini, it's missing the somewhat standard row of special iOS function keys that seem to be at the top of every iPad keyboard. I'm not sure that's a real problem, since I rarely find myself using those anyway.
Function:
The proof of any mobile keyboard is in the typing, and that's where a lot of these little keyboards tend to fall short. That's not the case with the ZAGG Pocket Keyboard — in fact, I've written this complete post on the keyboard using the Squarespace app.
Once the keyboard is unfolded and the "prop" extended on the back of the keyboard, it's very stable on a flat surface. You probably won't want to use the Pocket Keyboard on your lap as it won't lay flat.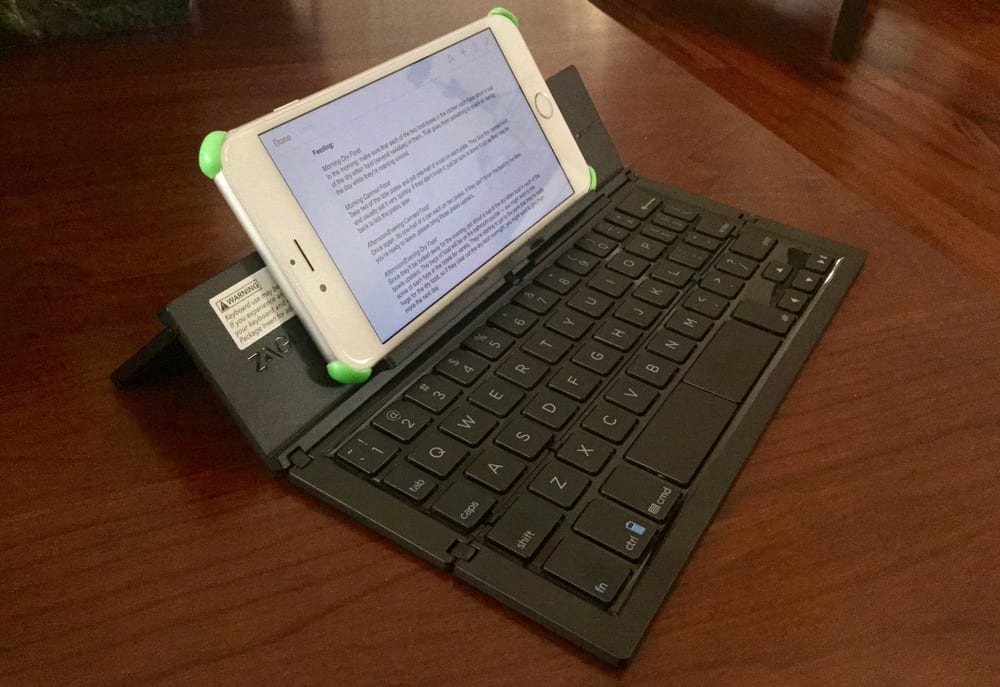 Buy a ZAGG Pocket Keyboard and support Apple World Today (affiliate link)
Since all of the keys are in the usual locations, I found it very easy to touch type on the Pocket Keyboard. There are a few keys that are a bit smaller than usual — the dash, equals sign, brackets, backslash, and quotes are all half-sized and can take a bit of getting used to. On the left side of the keyboard, the tab key is also diminutive but for some reason it didn't seem to make as much of a difference.
Pairing the keyboard was a piece of cake. With a touch of the "fn" key and one of the arrow keys that is marked with the Bluetooth symbol, the Pocket Keyboard became discoverable and was paired to my iPhone 6 Plus in seconds. The fn key also serves to give you a battery level indication when you press it and the control key — not that you'll need to know your battery level, since Zagg estimates a whopping two years of life between charges.
The keyboard comes in versions for iOS and Android, but they are somewhat interchangeable. If you decide at some point to use the Android version with an iOS device, typing fn + A while the device is pairing switches it to the Apple default mode; switching from Apple to Android, you type fn + I when pairing.
Once you're done using the keyboard, folding it back up turns it off. There are no switches to forget to flip; it's done automatically.
Conclusion:
Provided that you have a flat surface to place the Zagg Pocket Keyboard onto, it works extremely well with the iPhone 6 and 6 Plus to turn them into mini-productivity machines. Zagg has created a very good foldable keyboard that is incredibly useful with the Apple phablets. Would I use it in place of a laptop or even a good iPad keyboard? Probably not — but it's good to know that I could use my iPhone for productivity if I needed to.
My only concern is that the Pocket Keyboard is a bit more expensive at $69.99 than some other folding keyboards at half the price. That shouldn't stand in your way, though — if you're looking for a folding keyboard for an iPhone 6 or 6 Plus that just does a great job and takes up very little space in your life, the Zagg Pocket Keyboard should be on your "buy" list.
Apple World Today Rating (out of five stars): ★★★★★