Tagtrum's beaTunes is a useful iTunes tool for Mac OS X and Windows users, and it's gotten even better with the latest version (4.5).
Let's face it: you can accumulate so many tunes in iTunes that inconsistencies and glitches appear. What's more, if you're like me, you rip CDs to the software, so there may be missing info. BeaTunes can help with such shortcomings. It intelligently creates playlists of matching songs, corrects your iTunes Music Library (typos, wrong genres, a misnamed album, etc.) and more.
One of my favorite features is the ability to search for and add missing data such as album artwork, which is more comprehensive than similar features in iTunes itself.
BeaTunes also analyzes the color and tempo (BPM) of your songs and lets you create playlists based on this info. You can even blog about your playlists (though I have absolutely no desire to do this). All of the changes you make are reflected in iTunes.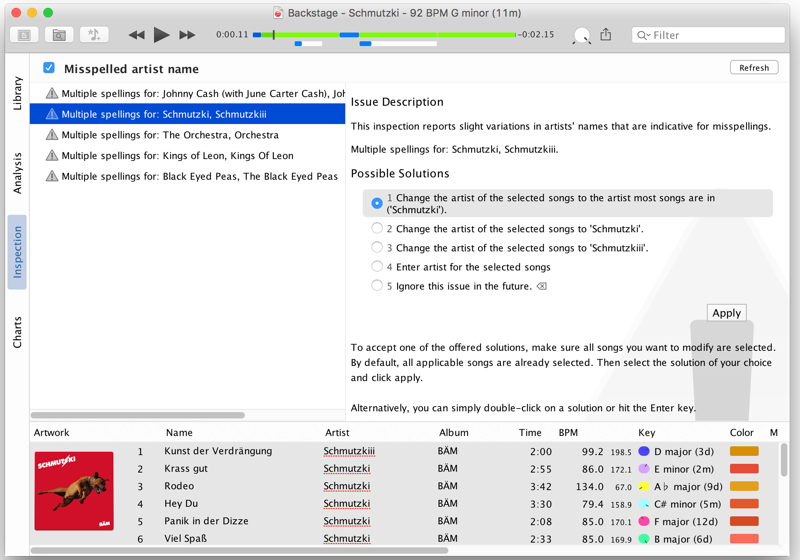 BeaTunes isn't a plug-in; it's an app that works in tandem with iTunes. It offers drag and drop installation. Once you launch it, on-screen prompts lead you through an analysis of your iTunes library.
BeaTunes' Library Inspection finds and alerts you to the discrepancies in the library. Then it's your call as to what corrections/changes you'd like to make.
Note that BeaTunes can be slow to launch initially if you have a big iTunes library. Other than that, BeaTunes makes a fine buddy for iTunes.
Version 4.5 sports a slick new user interface designed to mesh with the aesthetics ofYosemite and El Capitan aesthetic. Side and status bars can now be hidden. Top-level user interface selectors (Library, Inspection, etc.) are located at the left edge of the application window, in order to remove visual clutter. And there are keyboard shortcuts for all top-level panes.
With beaTunes 4.5, copying a song from the Matching Songs panel to the current playlist is now also possible via a dedicated button, instead of having to rely on drag and drop. This makes incremental playlist-building even easier.
In the audio analysis department, automatic key detection has been a beaTunes mainstay for years. Version 4.5 adds the ability to write keys into the comment field using one of multiple built-in formats (others can be added via a plugin interface). In the key tag itself, beaTunes can now write either ID3 or Open Key data, maximizing interoperability with other apps using non-proprietary formats.
beaTunes 4.5 now allows choosing between album and track gain when updating iTunes' proprietary iTunNORM tag. The upgrade adds a new inspector for missing track counts. Other inspectors were updated with additional issue solutions.
beaTunes 4.5 requires Mac OS X 10.7.5 or higher. It costs US$34.95. For beaTunes 4.0 users the upgrade is free. A 14-day demo is available for download.