Kenu, a car mount brand for smartphones, has announced its first powerbank product: the $59.95 BingeBank, an all-in-one wireless charging powerbank complete with a kickstand and a nanosuction phone stand.
Extremely versatile, it holds your Qi-enabled phone at a good viewing angle for watching videos even while it's charging it. Feel free to take it on the road as he BingeBank is a handy charging dock for travel. Its 10000 mAh capacity added about 34 hours of viewing time on my iPhone XS Max.
In addition to wireless charging, you can use a cable to fast charge two other devices through the 18W Power Delivery and Quick Charge USB ports. Sweet!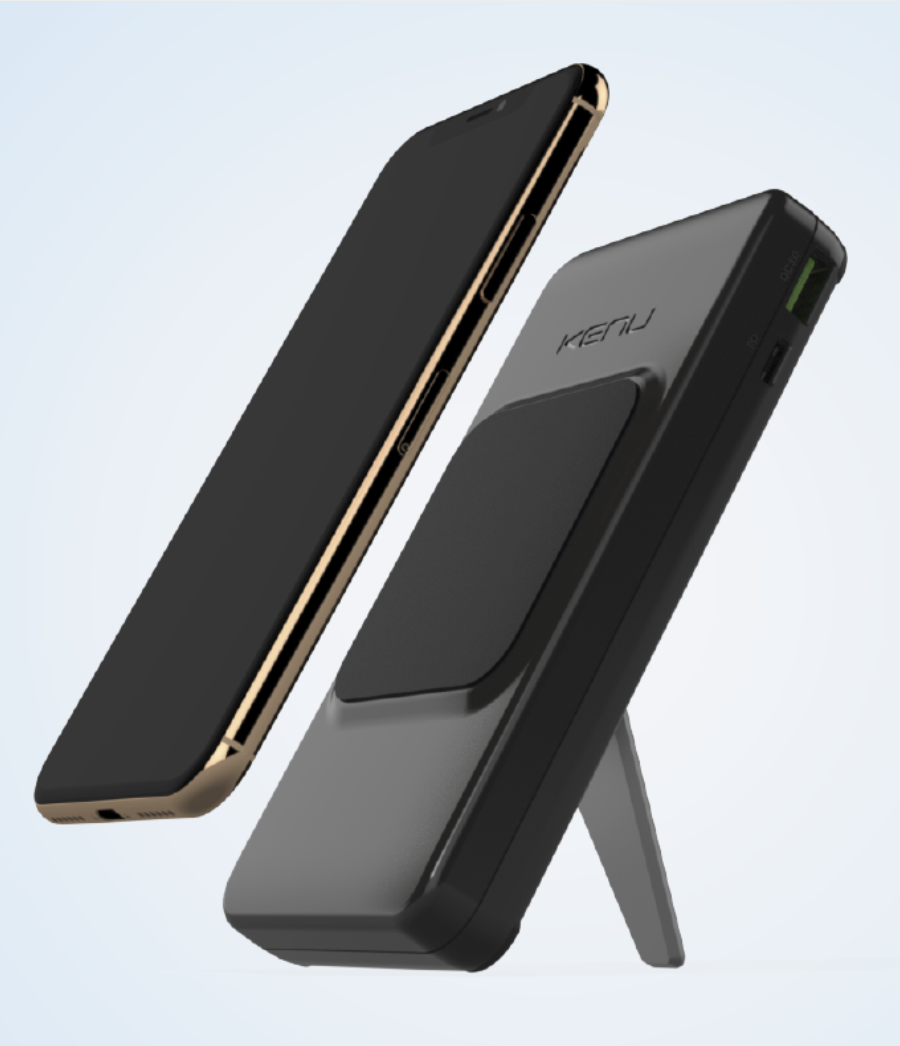 The BingeBank's nanosuction pad purportedly has millions of microscopic suction cups on its surface. I didn't count 'em, but if you press your iPhone firmly against the pad, it holds the phone securely in place even while it's charging and even on my bumpy driveway.
The BingeBank is compatible with cases with glass backs or the back of the iPhone itself. For non-compatible cases such as the Apple Leather Case that I have on my phone, the folks at Kenu include a minimal folding phone shelf that attaches to the pad. However, that's a bit kludgy, so you'll be better off using a BingeBank compatible case.
On the other hand, the kickstand is just about perfect. It's made of die-cast metal and folds away when you're not using it.
The integrated wireless charger works with all the latest Qi-enabled smartphones including the iPhone XR, XS, and XS Max, as well as the new Apple AirPods wireless charging case. However, there's one caveat regarding the latter: you need to enable low-power mode by double tapping the button on the side, allowing a "trickle charge" of the earbuds.
The 18W Power Delivery USB-C port can fast-charge an iPhone up to 50% in as little as 30 minutes, and can also charge a MacBook, MacBook Pro, or MacBook Air with Thunderbolt 3. 3.0 USB port, you can fast charge compatible Android phones and tablets.
One downside to the BingeBank: there's no wall adapter included, so you'll have to spring for your own. If so, make sure that it's powerful enough to charge up the battery fast if you're using it for a laptop or iPad Pro or MacBook.
Apple World Today Rating (out of 5 stars): ★★★★