The overall wearables market is expected to return to strong growth after a brief slowdown in 2016 that resulted from delayed launches of major platforms and notable vendors struggling to maintain pace, according to the IDC research group.
Apple seems to be the exception to the rule. Data collected by Slice Intelligence showed Apple holding a commanding 46.6% of the 2016 holiday market share of wearables' online revenue so far, up from 37% at the end of November 2015. And, according to research from Strategy Analytics, global smartwatch shipments grew 1% annually to hit a record 8.2 million units in the fourth quarter of 2016. Apple Watch drove growth and dominated with 63% global smartwatch marketshare.
Looking ahead, new vendors, emerging form factors, and an expanded number of retail outlets will drive worldwide wearable device shipments from 102.4 million in 2016 to 237.5 million in 2021, a five-year compound annual growth rate (CAGR) of 18.3%, according to new data from the International Data Corporation (IDC) Worldwide Quarterly Wearable Device Tracker.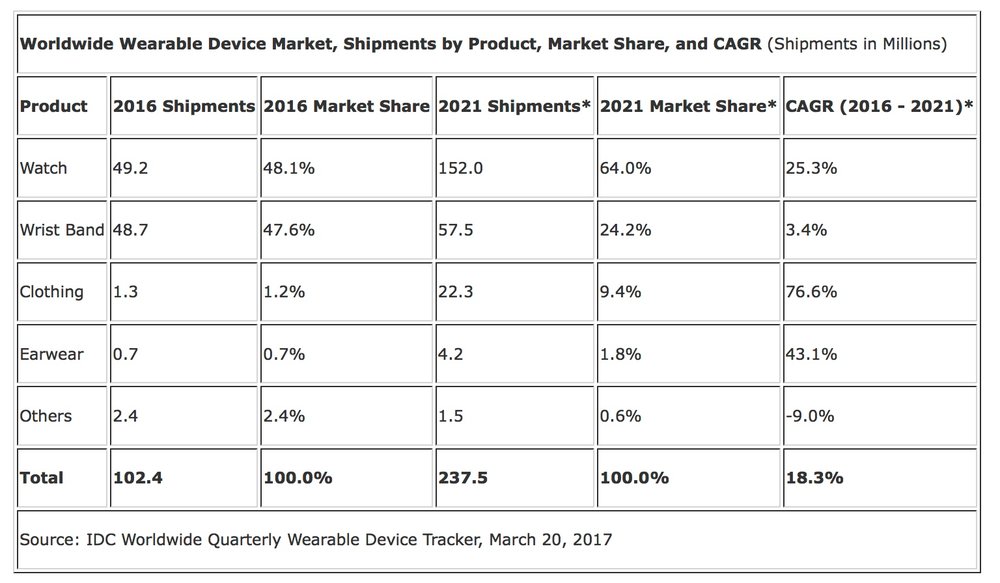 "With the shift towards watches and clothing, the need of a fashionable design will take center stage," says Jitesh Ubrani senior research analyst for IDC Mobile Device Trackers. "Tech companies will be forced to step up their game and offer a wider selection of sizes, materials, and designs in order to appeal to a broader audience. We also expect more tech vendors to partner with fashion brands for their creativity, and equally important, their distribution network. In doing so, wearables will be made available to a previously unaware audience – one that frequents fashion outlets over tech outlets."
Earworn devices are also poised for growth as new startups bring their innovative technology to the table and traditional headphone companies incorporate additional capabilities beyond audio. Though growth is expected, volumes will remain somewhat modest as the primary features of health and fitness tracking "hearables" overlap with the more popular wrist worn devices.
"Watches struggled as mass market devices due to limited and unclear value proposition to a broad base of potential users," says Ramon T. Llamas, research manager for IDC's Wearables team. "Most potential customers saw watches performing multiple functions, but none of them worked exceptionally well to accomplish a myriad of tasks. Going forward, we instead expect watches to hyper-segment into specific niches, including connected kids' watches, athletic watches, luxury and fashion watches, and lifestyle watches that better address different segment needs, whether they be communication, health and fitness, or as smart luxury and fashion timepieces. Not all of them will have the same features, but they will have enough – and the rights ones – to do the job."
The same approach can be applied to emerging products. Llamas says that clothing, for example, can be designed to track athletic performance or to track vital information and communicate with workers – like first responders heading into dangerous situations. Similarly, companies are augmenting earwear with fitness tracking and smart coaching, while others are focusing on enhancing audio or providing real-time language translation. In both cases, the wearable is not taking a one-size fits all approach, and instead concentrates on specific solutions for specific use cases.
Hello, World!
Related