I've always been a fan of Harmon speakers. They look great, sound good and are a perfect match with Apple's hardware line. Nothing exemplifies this more than Harman Kardon's $229.95 SoundSticks Wireless, whose predecessors are enshrined at the Museum of Modern Art.
The SoundSticks was one of the first in Harmon's line of unique speaker system designs, and they're still striking. (Plus, they go great with a new iMac.) No surprise, since Apple design guru Jony Ive helped design them. They haven't changed much since they rolled out in 2000, though the latest incarnation offers Bluetooth pairing with iOS devices such as the iPhone, iPod touch and iPad.
Pairing is easy. On your iDevice, go to Settings, then Bluetooth, and select SoundSticks Wireless from the devices menu. You can then stream your tunes to, based on my various tests, the best-sounding Bluetooth-enabled speakers available.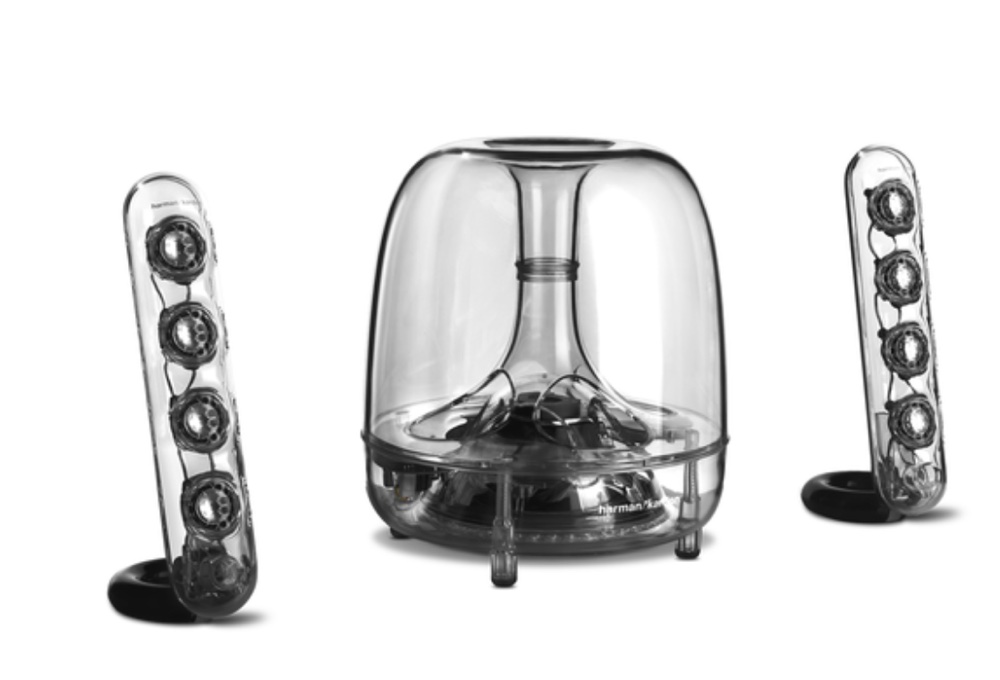 The SoundSticks Wireless is comprised of two satellite loudspeakers and a jellyfish-like, downward-firing subwoofer that weighs slightly under five pounds. The transparent subwoofer sports a 6-inch aluminum driver, 20-watt, on-board amplifer and "stick" shaped tubular speakers (also transparent). The 1.5-pound speakers boast four 1-inch aluminum drivers and 10 watts of power. The SoundSticks reproduce 44-20 kHz. The satellite towers contain four Odyssey transducers that deliver high frequencies beyond 20kHz. The speakers provide a 1/8-inch stereo mini-jack input.
There are two important aspects to the SoundSticks Wireless: appearance and audio. Let's consider the appearance first. Simply put, they're gorgeous. This is not a speaker system you'll want to hide away; you'll want it atop your desk so anyone who visits your home, office or wherever the Wireless SoundSticks abide can appreciate the smooth, curvy design.
For an even cooler effect, turn off the lights and watch the SoundSticks' blue light reflecting off the curves of the speaker system. However, form also equals functionality. The speakers sit on a thick, shiny rubber ring that lets you tilt the satellite towers to and fro.
Of course, the most important thing is: how do they sound? The answer is good, if not great. The frequency response is, as mentioned, 44Hz response in the low-end to a 20KHz ceiling. Human hearing range actually extends down to 30Hz, so you can get systems with more thumping bass, but the SoundSticks Wireless do a decent job. Besides, the bass is really clean. The speakers also distort a bit when you really crank up the volume. However, they can get REALLY loud, so this shouldn't be too much of a problem.
The Wireless SoundSticks systems has a clever volume control. Capacitance touch control buttons on the right satellite allow for direct access to volume control.
There are some drawbacks to the SoundSticks Wireless. There's no external jack for plugging in headphones, and the bass controls are mounted on the subwoofer itself, which is inconvenient as, good looks aside, you'll want to place the subwoofer on the floor. Plus, they're pricey. The SoundSticks Wireless cost US$275, though you can get the SoundSticks III without Bluetooth for about $125.
If you want speakers for the die-hard audiophile, look elsewhere. If you need a 5.1 Surround Sound system, these aren't for you. But if you want a classy looking, thumpin' 2.1 speaker system at a reasonable price, and which also works wirelessly with your iOS devices, the Wireless SoundSticks will sound sweet to your ears.