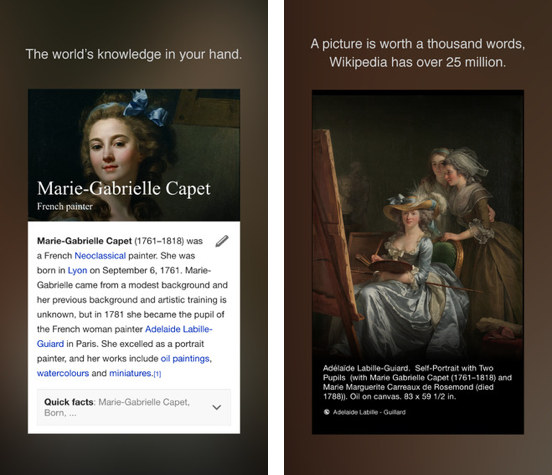 The Wikipedia app for iOS was updated today with a handful of new features that make it easier to read and share content on the free online encyclopedia. The biggest change are the new image options that make images more prominent as you browse through the entries. Each entry now includes a lead image that appears at the top of an article, giving the app more of a blog feel instead of text-onlyencyclopedia entry. The app also now supports image galleries, allowing you swipe through multiple images that may be attached to an article.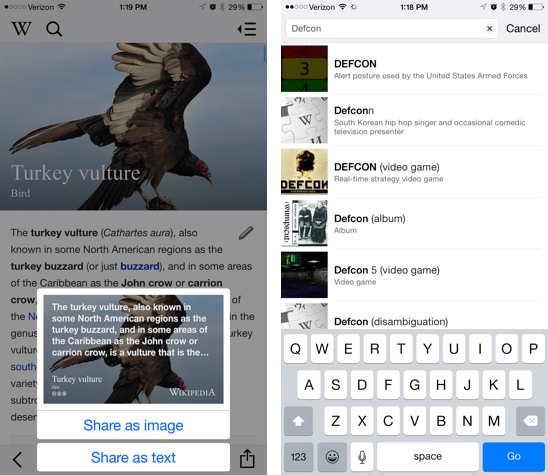 Another notable feature is a new sharing option that allows youth share a text snippet or an image of the article with your friends, family or followers. The image option includes a thumbnail from the article with text overlayed on top. It's a pleasing presentation that bundles concise information with good looks. Last, but not least, is a handy new search feature that includes a short description under most search results. This snippet provides details about the entry and allows you to discern between two similar entries and find the one for which you were searching. 
Besides the new image, search and sharing options, the full changelog for version 4.10 includes the following
Enhanced sharing! Tap the Share button, or highlight an interesting fact from an article and tap "Share" to create an image which can be shared to social networks and other platform

Search improvements: search now supports fulltext lookup and results now also have quick descriptions below them when available

Lead images: experience Wikipedia like never before with a prominent, contextually-relevant image and description at the top of articles

Image gallery: tap on images to view them full-screen. Swipe left or right to browse other images within the article

Read more: suggestions for further reading at the bottom of article
You can download the updated Wikipedia app from the iOS App Store now for free.