Apple World Today has been around for almost 17 months now, and we've made some great strides in becoming your favorite source for Apple-related news and reviews. Financially, we're still struggling, and that's why we're making an appeal to our readers today to become members of Team AWT or to increase your monthly giving.
Despite adding limited advertising and the Apple World Today Deals Shop, we're still not making a decent living. Our primary source of income is readers like you, who signed up through Patreon to support the site with a monthly donation. The biggest boost to our income came last August when we were very close to shutting down. As you can see from the chart below, each month since then we've seen lower income through attrition. We're currently at about 50% of our Patreon goal — what is needed to make the website sustainable — and that must change.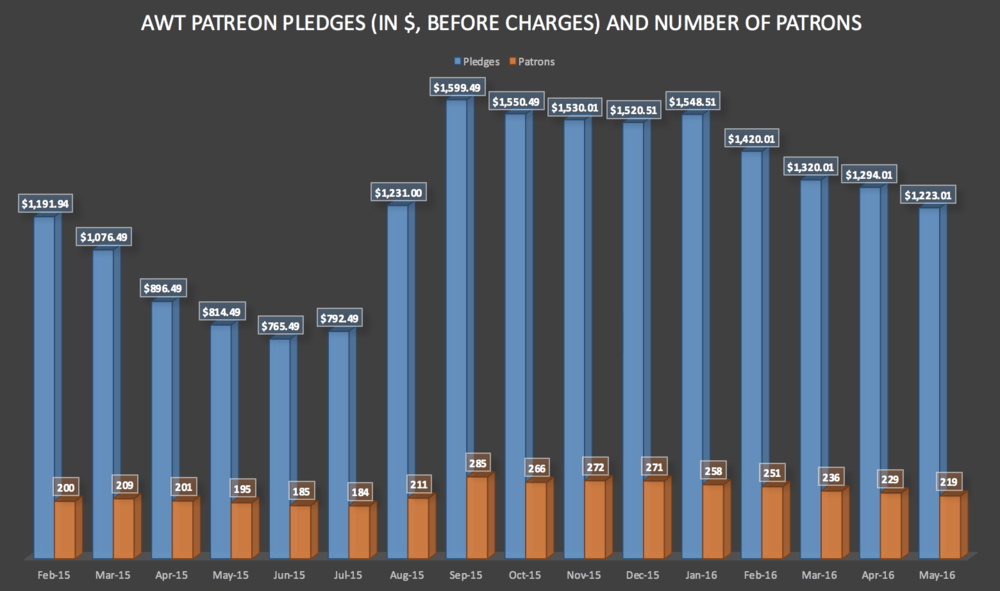 If you're already a Team AWT member — meaning that you donate $5 or more towards the site each month — we thank you. What we're asking is that the rest our readership consider joining Team AWT. For your $5 or more monthly donation, you get:
Member-only discounts and giveaways
Exclusive access to the Team AWT Slack chatroom
Access to the weekly Patron Podcast
A regularly-emailed newsletter with fresh and fun content not available elsewhere
More goodies as we add them to the program
With additional revenue coming in, we can consider adding other benefits for all of our readers:
A part-time editor to check our content before it is published
True discussion forums instead of the Slack chatroom
More videos and video podcasts
Help ensure Apple World Today's continued survival and growth by joining Team AWT or increasing your monthly giving on Patreon. We appreciate your support.
Updated: One of our readers requested that we make annual payment an option, so that has been set up. You can now pay for 1, 2, 3, 4 or 5-year subscriptions! This is done through the Squarespace Stripe eCommerce integration and is safe and secure.
One More Thing: You don't need to give $5 a month to help Apple World Today; anything helps. The $5 level just gives you the perks of Team AWT, and if you're not interested in those, we'll gladly take a smaller monthly donation through Patreon. Just select "No Reward" and put in your amount of less that $5 per month – thank you!
---