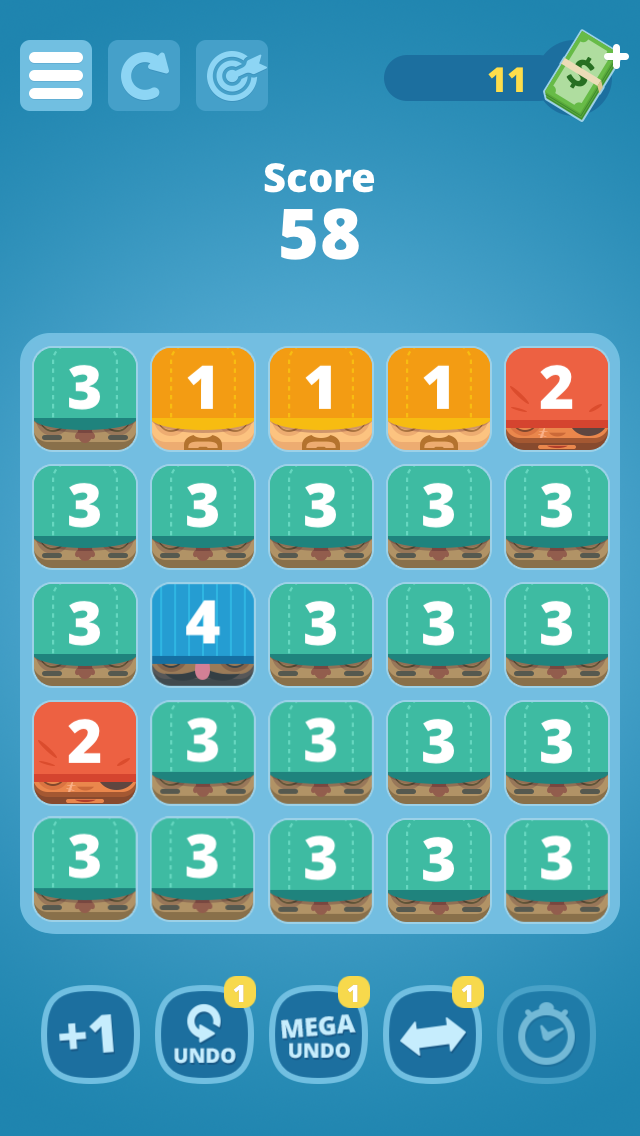 13 Thieves (free with in-app purchases) from Space Inch is a tile puzzle game in the tradition of Threes! and 2048. This time, the "tiles" are numbered thieves who would rob you of everything if given half the chance. 13 Thieves is a fun game with nice graphics, goofy sound effects and familiar yet still engaging game play. Here's our look at 13 Thieves.
Looks
It's a pretty cute game. Each numbered thief has its own look and personality, often greeting you with his or her own catchphrase. Actually, "catchphrase" is inaccurate. It's more of a "catch sound." Number four's drawn out "Helloooo" is my favorite.
My only complaint is the mission review screen. Tap the bullseye button to get a pop-up reminder of the active mission. It's semi-transparent and features small text, and as a result difficult to read with the game board behind. Removing the transparency would fix this.
Overall, 13 Thieves has a fun, cartoon-like look that I enjoy. But what about game play? Read on.
Game play
You get a 5×5 grid of numbered thieves. Tapping any thief will combine with with adjacent thieves of the same value into a single thief of the next number up. For example, if there's an uninterrupted cluster of thieves labeled "4", tapping it will collapse all of them into a single thief labeled "5". Other tiles fall into the space left open, from top to bottom. The idea is to keep going until you produce number 13.
Read: previous selections for "What you should play this weekend."
Like most games of this type, it's not easy. At first you're cruising along, but the difficulty slowly mounts. Careful planning is required to note where your new thief will land as well as what will happen when new ones slide in.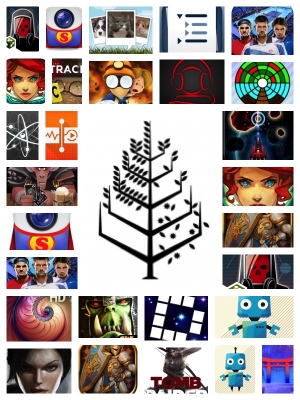 Today in the App Store, featuring Tomb Raider: Underworld and Four Seasons Hotels and Resorts
Here are some of the best free apps, app updates and new apps that have landed in the App Store recently. Today's notable apps include a discount on Tomb Raider: Underworld; the new Four Seasons Hotels and Resorts app; and an update to Rules! All app prices are USD and subject to change. Some deals may expire quickly, so grab them while you can.
iOS Apps Now Free
Warhammer Quest [9.99 → Free] Lead your group of brave adventurers through the perilous dungeons of the Warhammer World in the search for wealth and glory!
Mechanic Panic [1.99 → Free] Work was great, until the day the elevators stopped working. A catastrophic explosion has rocked the world's first Space Elevator. Thankfully you're on the job!
Arcs [1.99 → Free] Arcs is a spin on the classic sliding tile puzzle game! Use your brain power to solve 100 circular puzzles by rotating circles and sliding arcs.
Doptrix [0.99 → Free] Simple, yet challenging CLASSIC, brain-teasing PUZZLE, mind-bending REFLECTION, fast and unforgiving SURVIVAL, strategic CHALLENGE and completely different ALTERNATIVE.
Retro Dust [0.99 → Free] Asteroids style retro arcade shooter Classic retro gaming returns with a vengeance in this fast paced retro arcade shooter.
My Talking Pet [1.99 → Free] Bring photos of your pet to life with My Talking Pet.
Notes Plus [4.99 → $2.99] Notes Plus is a powerful note-taking tool that has enabled many people to go completely paperless. Be one of them!
Pics2Mov [1.99 → Free] With Pics2Mov, anyone can make a cool video easily and quickly.
Chemio – A Student's Chemical Reference [1.99 → Free] nteractive periodic table, solubility table, molar mass calculator and the 3D widget for designing electron configuration of atom.
iOS Apps On Sale
Card Crawl [1.99 → $0.99] Card Crawl is a solitaire style Dungeon Crawler played with a modified deck of standard cards.
BattleLore: Command [9.99 → $3.99] Command valiant warriors and vicious demons in BattleLore: Command, based on the board game BattleLore Second Edition.
The Trace: Murder Mystery Game – Analyze evidence and solve the criminal case [4.99 → $3.99] The Trace: Murder Mystery Game – Analyze evidence and solve the criminal case
Tengami [4.99 → $2.99] Tengami is an atmospheric adventure game set inside a Japanese pop-up book.
Frax HD – The First Realtime Immersive Fractals [3.99 → $1.99] Frax is an art program that puts the "equations of nature" in the palm of your hand.
Cloud Outliner: Outlining tool with Evernote integration [4.99 → $1.99] Cloud Outliner lets you create and share outlines between your Mac, iOS devices, and your Evernote account.
BeatPad [4.99 → $2.99] Join the community and produce like a pro! BeatPad blows every competing app away with superior sound quality and available sound packs.
Discounted Mac Apps
Tomb Raider [$39.99 → $15.99] A survivor is born.
Tomb Raider: Underworld [$19.99 → $5.99] Explore everything. Stop at nothing.
Stand O'Food [$4.99 → $Free] Stand O'Food® is an original, fast-paced restaurant challenge with millions of players.
Snapheal – Remove unwanted objects & Fix imperfections. [$4.99 → $0.99] Snapheal is the fastest and easiest way to remove unwanted objects and people from your photos.
Disk Diag – The Disk Cleaner: Clean and free up disk space [$5.99 → $2.99] lean and free up disk space with a few clicks!
New and Notable Apps
Four Seasons Hotels and Resorts [Free] Your next personalised getaway is just a tap away. Download the Four Seasons App, now available at luxury hotels and resorts around the world. It's service as mobile as you are.
Transistor [$9.99] FROM THE CREATORS OF BASTION: Experience a science fiction action RPG like no other!
Tennis World Tour – Road To Finals [$4.99] Go through an enthusiastic World Tour and enjoy its dramatic conclusion: the world's best descend on London for one final showdown: The Tennis Word Tour Final.
Infection: Humanity's Last Gasp [$4.99] Voted one of the 2013 Best Thematic Solitaire Games for the Spare Time Challenged on BoardGameGeek!
Updates you don't want to miss
Rules! [$2.99] RULES! is a cute puzzle game that's challenging, fast-paced and fun.. Version 3.0.2 includes the following changes:
Layout improvements
Fixed Watch statistics for more then 7 data points