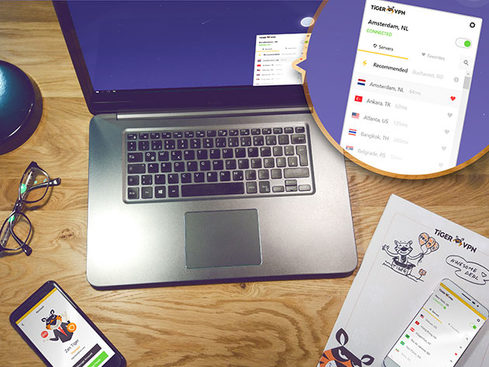 Need a virtual private network (VPN)? Most people are beginning to realize the benefits of using a VPN to secure their privacy on the Internet. Today we've got a deal on TigerVPN, one of the top-rated VPNs according to Verified Reviews (4.7 out of 5 stars) and a company that's been featured on Engadget, CNET, The Next Web and many other websites. This deal gives you a lifetime of access to TigerVPN for just $34.99.
Provides military grade encryption & privacy protection for all of your devices & gadgets
Maintains high connection speeds thanks to low latency servers w/ up to 10Gbps connectivity
Features native apps for Windows, Mac, Android, & iOS
Includes 15 VPN nodes across 11 countries
Gives you the freedom of protocol choice, including OpenVPN, L2TP, IPSec, & PPTP
Shields you from other VPN users w/ a NAT Firewall
Offers maximum security due to shared IPs (IP-Mashing)
TigerVPN works on any Mac running macOS 10.10 or later, and on iOS devices running iOS 9 or later. It's compatible with PPTP, L2TP and the OpenVPN protocols, but you'll want to make sure that your internet or mobile data plan allows VPN usage first. 
If you haven't taken advantage of one of our VPN deals before, what are you waiting for? Secure your online life today!
Like this article? Consider supporting Apple World Today with a $5 monthly Team AWT membership.