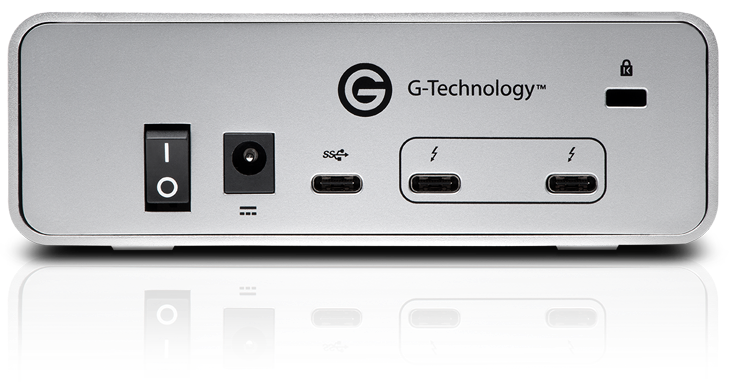 At the 2017 NAB Show in Las Vegas, Western Digital Corporation announced upgrades to the G-Technology product line targeted at creative professionals. The big news is the addition of Thunderbolt 3 and USB-C technologies to the product family to optimize the speed and performance of the G-Technology product lines.
The G-Drive for Thunderbolt 3 is now available at $699.95 for 10TB (12TB coming next quarter at $799.95) and less for smaller capacities. This drive has dual Thunderbolt 3 ports and a USB-C port that supports USB 3.1 Gen 1. Up to five of the devices can be daisy-chained in order to move HD videos or 4K footage to multiple drives with a single connection. The drive uses the HGST Ultrastar 7200RPM Enterprise-class hard drive mechanism.
The G-RAID with Thunderbolt 3 will ship in June at capacities up to 20TB and in the next quarter with capacities up to 24TB for $1999.95. The G-RAID can be set up as dual-hard drive RAID 0, RAID 1 or JBOD, with Thunderbolt 3, USB 3.1 Gen 2, and HDMI 2.0 output. It's possible to plug in 4K 60 HDR displays and editing tools for accessing, browsing, editing and backing up digital libraries.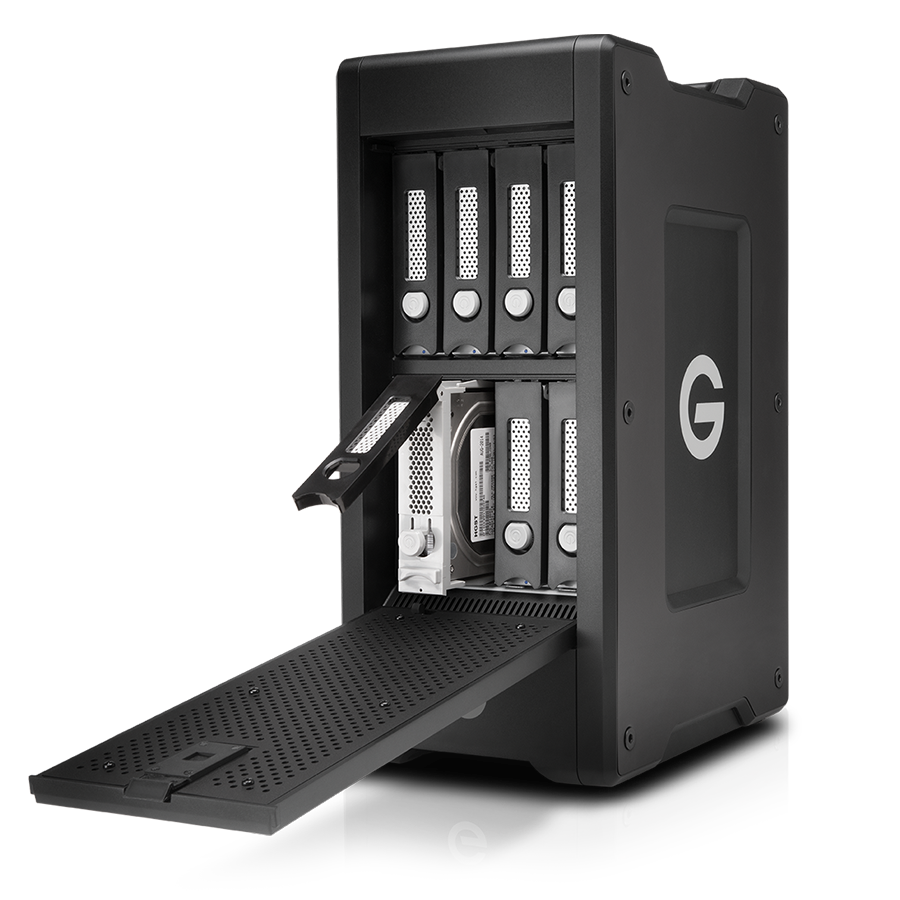 G-SPEED Shuttle XL
An 8-bay transportable solution, the G-SPEED Shuttle XL with Thunderbolt 3 will be available in June at capacities up to 80TB and next quarter in capacities up to 96TB at a price of $10,199.95. The G-SPEED Shuttle XL offers hardware RAID 0, 1, 5, 6, 10 and 50 configurations. G-Technology will also release the G-SPEED Shuttle XL with ev Series bay adapters next quarter with 72TB at a price of $7,799.95. With integrated ev Series bay adapters, this configuration will improve workflow options and productivity by enabling cross-functionality with all ev Series drives.