watchOS 5 is here. You can download it via the Watch app on the iPhone. Among other things, the update allows Apple Watch owners to communicate with others and keep on track with exercising through a variety of new features.
For example, watchOS 5 has built-in competitions where you can challenge a friend during a one week period to reach a specific level. During that week you can see how you and your competitor are both doing and offer encouragement (and taunts) designed to get them moving more.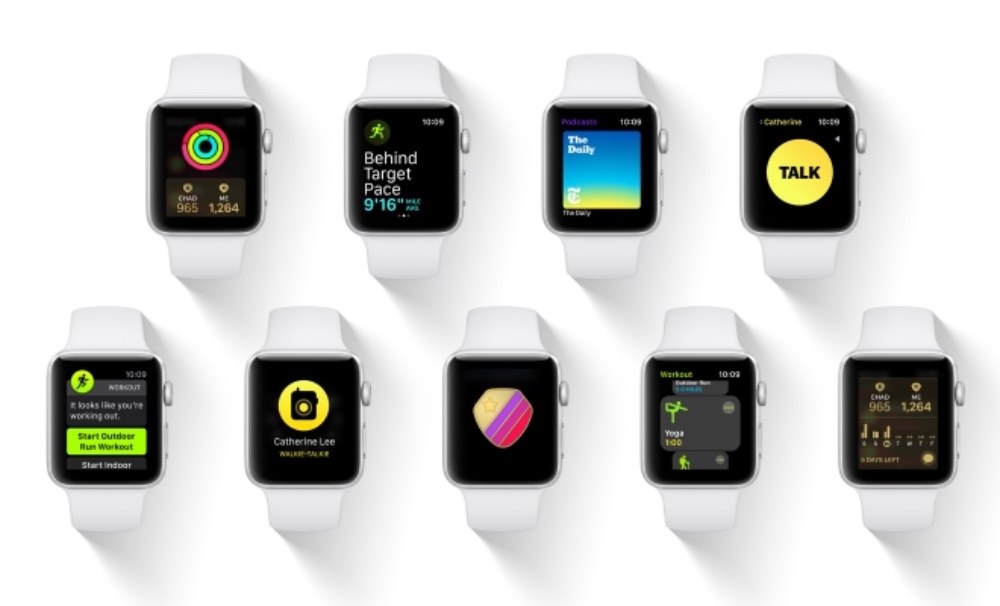 Apple has added a number of new activities to the Activity app, as well. It's now possible to track yoga workouts and hikes. Hiking will give a much more accurate reading of calories burned by combining information on heart rate, elevation gain and loss, and more. 
The running activity now shows a "rolling mile pace" with the time of the last mile updated constantly. There's also a custom pace alert and a way to track cadence.
One issue that many Apple Watch fans have faced is starting and stopping their workouts in the Activity app. watchOS 5 brings automatic workout detection; if it sees that your heart rate and motion have suddenly increased, it will start tracking activity and do it retroactively to the beginning of the workout. It also "sees" when activity has slowed down and can automatically end workouts.
<!— code from sekindo - Appleworld.today In-Article - outstream —>

<!— code from sekindo —>
watchOS 5 also debuts the Walkie-Talkie press-to-talk function. With a tap on the name of a person you wish to talk to, you just hold down the Talk button and say what you want. No dialing or typing is involved;  you simply get a voice message to your recipient immediately. 
The Siri watch face is getting an update as well. You can now add add third-party apps to the Siri Watch face as well. It's no longer going to be necessary to say "Hey, Siri" to get Siri's attention with the Watch; the smartwatch will listen for commands just by raising your wrist and talking. 
Another new feature is the ability to interact in notifications. For example, if a person has made a restaurant reservation in Yelp and gets a confirmation notification, they can not only confirm the reservation, but also add or subtract people from the reservation — all in the notification.
Web content can be viewed on Apple Watch with watchOS 5. If someone sends you a link in a message, the web page is viewable through WebKit in watchOS. If a reader-compatible page is available, that's what WebKit uses to format the information for the Watch.
The Podcasts app has come to the Apple Watch. You can ask to have podcasts automatically synced to your Watch or ask Siri to send the latest episode to your Watch. 
watchOS 5 allows college students to use an Apple Watch as a Student ID card for  identification purposes or paying for pay for fees with Apple Pay. There's now a way to answer FaceTime calls in audio, Memories appear on the Photo watch face, and software updates can be installed at night.
Sorry, Apple Watch Series 1 owners, but you'll have to own a Series 2, 3, or 4 smartwatch to take advantage of watchOS.