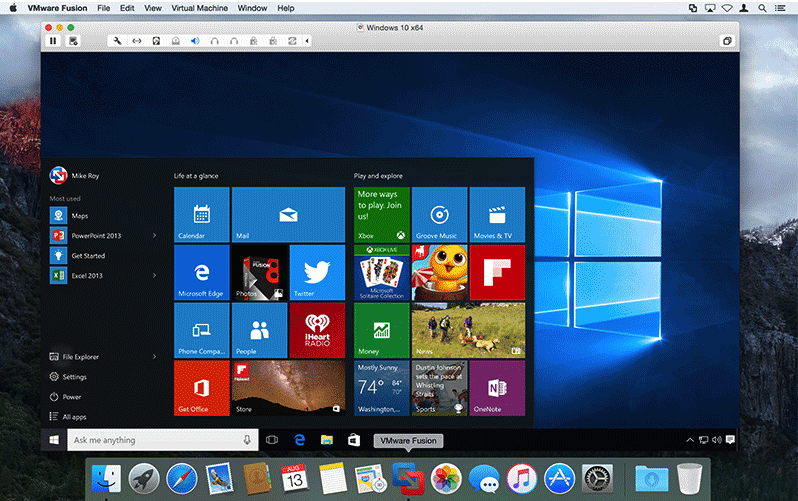 Last week, Parallels introduced Parallels Desktop 11 for Mac, the latest version of its virtual computing platform. And today, like clockwork, VMware has released VMware Fusion 8, its newest iteration in the VMware Fusion line.
Like its competitor, VMware Fusion 8 is designed to let Mac users run Windows on a Mac without rebooting. The new version provides support for Microsoft Windows 10 and Mac OS X El Capitan, so users can take advantage of features like "always on Cortana" (Microsoft's Siri-like virtual assistant) or beta test El Capitan before its release later this year.
One place where VMware Fusion 8 really stomped the competition is in terms of graphics performance. The company enhanced the graphics engine and addes support for DirectX 10 and OpenGL 3.3, resulting in a virtual machine environment that can handle tough 3D applications and pump out graphics up to 65 percent faster than VMware Fusion 7.
VMware designed Fusion 8 to take advantage of the latest Macs, so it can works like a champ with devices as diverse the iMac Retina 5K and the 12-inch Retina MacBook.
Of course, VMware Fusion 8 has a bigger, stronger partner in VMWare Fusion 8 Pro. The Pro version adds support for all of the latest Windows, Linux and OS X environments, and is integrated with VMware vCloud Air. Using the latter, virtual machines can be backed up to the cloud or websites and apps can be developed on a local machine before being pushed to the cloud for production.
Pro is targeted at developers, with support for Chef, Vagrant and Docker. In situations where users need to simulate complex cloud architectures, VMware Fusion 8 Pro provides advanced networking controls including IPv6 NAT support.
VMware Fusion 8 is available for $79.99 today, and Fusion 6 and 7 customers can upgrade for $49.99. Anyone who has purchased VMware Fusion 7 or Fusion 7 Pro between July 29, 2015 and today can upgrade for free. A free trial of VMware Fusion or Fusion Pro can be downloaded here.