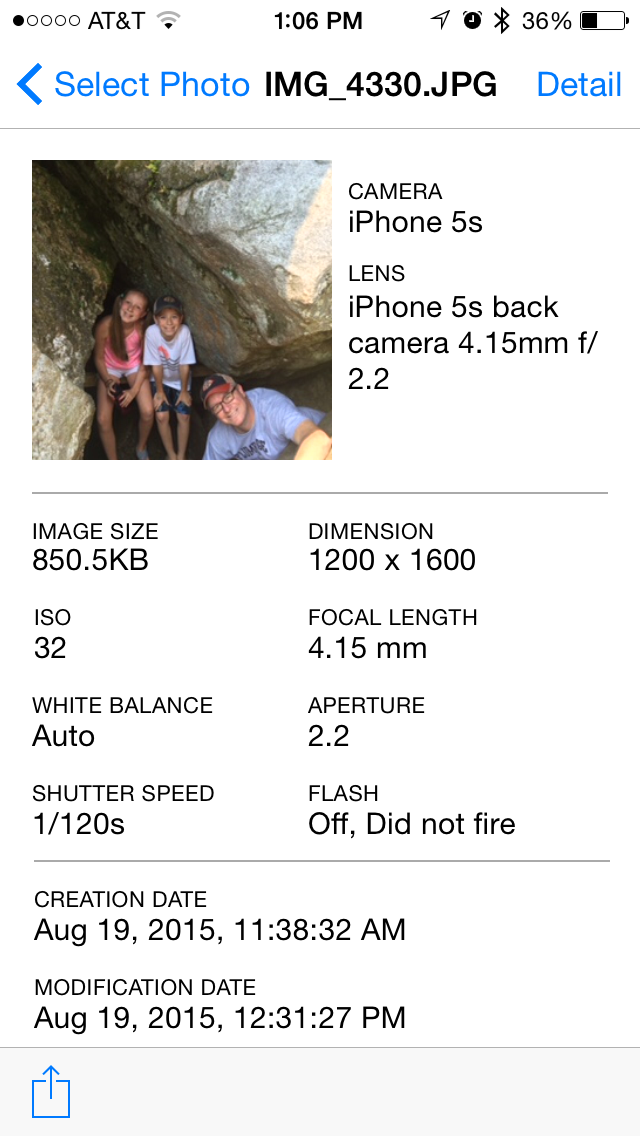 Like so many apps, PixelMet (free with in-app purchase) was built to fill a specific need. "When I am on my Mac," developer Danny Wong told me, "I can view the location of my photos with the Photos app on OS X. However, I can't do the same thing on iOS to my satisfaction, and I couldn't find any third party app that did the job. I thought, why don't I build one myself?"
The result is PixelMet, which Danny calls "a companion to Apple's Photos app on iOS," akin to the "get info" function on a Mac. I've been playing with it for a few days and I've found it's a nifty little utility. Here's our look at PixlMet for iPhone.
Summarize, Mr. Data
PixelMet's provides a lot of information on your photos. Once you've given the app permission to access your photos, just tap anyone to make your selection. From there you're taking to a very clean and well laid-out information screen.
Basic information displayed includes:
Device and lens used
Image size and dimension
ISO
Focal length
White balance
Aperture
Shutter speed
Flash status
You can also view the image's creation date, modification date and location, represented by a pin on a map.
The app's handling of location data offers two nice features. Tap on the map to reveal two options: Open in Map and Share Location. For the cost of the $0.99 premium feature, you can have PixelMet open that location in a mapping app on your phone. Additionally, you can opt to share the location via Twitter, Facebook, email…on and on.
Ah, but what if you want to share an image without any of its metadata, including location information? No problem. Just tap the share button and select Share Photo without Metadata.
All of the data
Once you're itching for more data, tap Details. A new screen appears with a lot of information, including camera info, EXIF info and detailed GPS data like latitude, longitude, time stamp, altitude and more.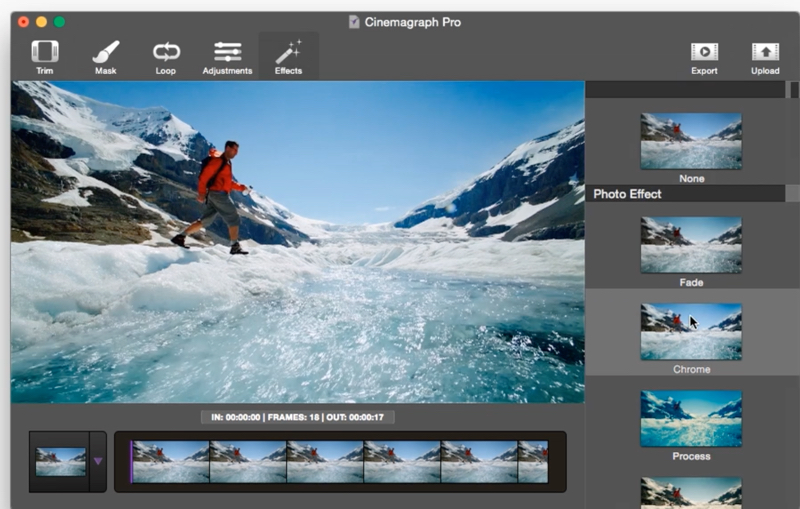 When you launch Cinemagraph Pro, you're presented with a quick start window. Click on "Create a new document". You can also create a new document at any time with the menu command "File > New" (⌘N). You'll be prompted to import a QuickTime movie or MP4 to create your document. 
The first tool you'll need to use is the trim tool. Once you've created your document, the master frame is anchored. You use the trim tool lot identify the sequence you want and set the still frame to create a more seamless loop.
The video is actually layered over the top of the master frame. If you were creating a cinemagraph in a video editing app, you'd have to separately render out the video and a still frame layer on top. Cinemagraph Pro does all this in the background and saves you a lot of time. You can also export your still image, retouch it in an image editing app such as iPhoto, then reimport it. This is another great time saver as it allows you to retouch one frame at a time. 
When you create a new document, the still image is the first frame of the trim region. You can select a still image from the source video by clicking and dragging the purple marker in the timeline. Release the left mouse button to confirm your selection.
Other Cinemagraph Pro tools include:
Mask: You can select a specific area within your photograph to animate by simply "live-masking" the motion right into the image.
Loop: You can select repeat or bounce loop style, loop crossfade, and speed.
Effects: You can instantly preview almost 30 built-in filters.
Delay: For a surprise effect, you can add a delay between loops.
Once you've finished your cinemagraph, you can export it as either a MP4 or high quality GIF. Then you can share your creation on Flixel.com, share on social networks, or embed it on your website.
The software includes support for UHD (4K) resolution video capture, masking tools, looping options and a wide range of filters. Creators can upload and share their living photos in high resolution to Flixel's community, as well as to a variety of social networks. 
Flixel also offers its audience the ability to embed living photos onto websites and blogs. The embeddable Flixel player hides the complexities of video on the web and provides a seamless experience that auto-plays and auto-loops in all browsers and platforms, including mobile.
Though it has some great time-saving features as mentioned, you will have to practice with Cinemagraph Pro to get really polished results. Not everyone is going to have the patience to put in the time to create "living photos."
However, for those who want to create eye-popping images for ads, web sites, or, heck, just for fun, Cinemagraph Pro is a fun, and addictive, tool.
A demo is available for download. Cinemagraph Pro costs US$199.99. Or you can subscribe to Flixel Cloud for $19.99 a month and receive the app, an iOS version of Cinemagraph Pro, Persecond for Mac (a tool for building timelapse videos that costs $24.99 as a standalone app) and 1TB of storage.