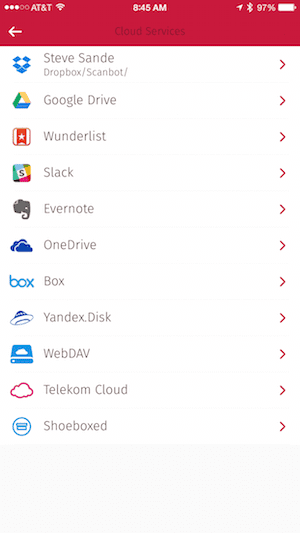 With as many apps as I have on my iPhone 6 Plus, I usually put them all in nicely arranged folders. There's an exception, though — Scanbot (free with in-app purchases) always remains on my Home screen because I use it constantly. It was just a year ago that the app was launched, and the developers announced that over 1.75 million people have now downloaded Scanbot. Today the app received an update to version 3.7, and the developers added some extremely powerful integrations to the mix as well.
The free Scanbot Standard app added integrations to Slack and Wunderlist. That first integration will be extremely useful to those of us here at Apple World Today, as we use Slack as our team collaboration app. The update allows scans to be uploaded to conversations and channels for discussion with other team members, and could be useful for doing things like sending receipts to a shared channel.
For those who use Wunderlist to create reminders or to-do lists, you'll be happy to know that you can now scan documents and enhance them with reminders. The team also added a new document naming feature based on location and calendar events, and Scanbot PRO users can set names with taps on not only pre-defined tags, but self-generated tags as well.
The update is available now, and if you don't have Scanbot on your iPhone or iPad, you owe it to yourself to at least try the free version. It's made a world of difference for me personally in helping me to reduce paper clutter by making document scanning fast and easy instead of a dismal chore.
UPDATED 05/29/2020: Wunderlist is no longer available thanks to Microsoft buying and then abandoning the app, but our friends at Chamber of Commerce have a list of the Top 11 Wunderlist Alternatives for you to check out.