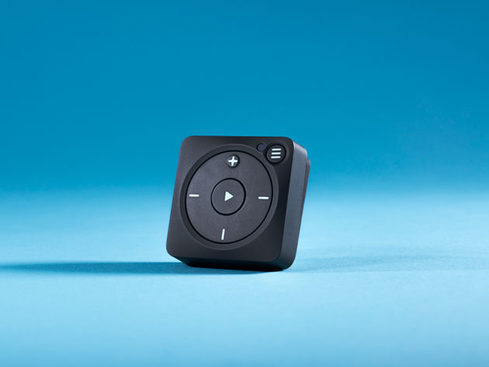 You love Spotify, but you don't love the fact that you need to have your iPhone with you to listen to your favorite music. We have a solution for you — the Mighty Vibe Spotify Offline Player ($76.99) is a tiny Bluetooth and Wi-Fi enabled device that supports wired and Bluetooth headphones and speakers, and can hold over 1,000 songs for your listening pleasure. You don't even need a network connection to listen!
No signal, no problem – music stored offline so you can listen while working out without your phone
Redesigned antenna allows expanded Bluetooth playback range & stronger connectivity

Works w/ Spotify Premium

Pairs w/ Bluetooth headsets & speakers (and wired, 3.5mm headset jack) and clips onto clothes for extreme flexibility

Syncs 1,000+ songs from your Spotify library

Wakes itself up each night & automatically refreshes your synced music through the new Stay Fresh feature

Delivers over 5 hours of battery life

Features drop & water resistance

Playlist Selector button allows for easy playlist scrolling
You can get the Mighty in Zazzy Black, Mooshu Red, or Gully Blue. The player weighs just 0.7 ounces and is tiny — 1.5 x 1.5 x 0.7 inches. Escape from all of the distractions of notifications and incoming phone calls and enjoy your music again with the Mighty Vibe Offline Spotify Player.