Twelve South's highly-anticipated BookBook vol. 2 ($89) has arrived, and the iconic hand-crafted leather case has been completely reengineered for the 2018 iPad Pro. The newest version, available at TwelveSouth.com and retail partners, has been reimagined and now includes several key features.
Once you open your new BookBook, you'll immediately notice the sophisticated redesign, beginning with a new built-in shell to securely hold your iPad Pro, while showcasing the Liquid Retina edge to edge display. BookBook vol. 2 for iPad Pro also includes added storage space for your Apple Pencil so you can keep track of it while charging on-the-go.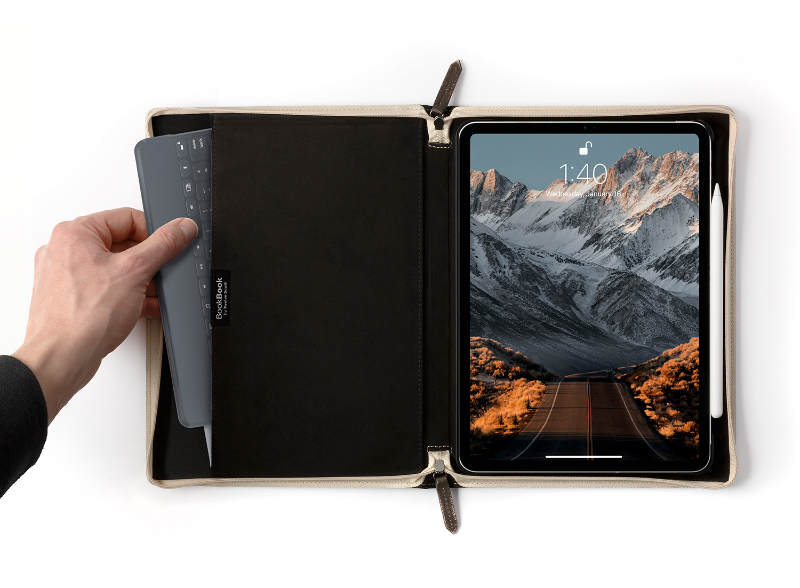 And now, capturing images and 4K video is easy with BookBook thanks to a new back cover camera window. Additionally, an interior pocket now holds documents or a compact Bluetooth keyboard for a convenient desktop experience while traveling.
With the newest BookBook, your iPad Pro is securely held in place with a hinged shell that provides full access for drawing and smart gestures. Lift the shell up into display mode to share a Keynote show, newly edited video or your amazing photos. While in display mode, pair a compact keyboard with your iPad Pro for a mini desktop workstation or use your iPad as a second screen next to MacBook, tilted to the perfect angle for replying to an email or sketching with Apple Pencil.
Best of all, like all our BookBook cases, your device is protected between two hardback covers and a reinforced spine.
BookBook vol. 2 for iPad Pro (available in both 11" and 12.9") is part of Twelve South's BookBook collection of cases, including BookBook for iPhone and MacBook. Each BookBook is made from premium leather and is brought to life with hand craftsmanship and distressing, ensuring no two are alike. From dual zippers with leather pulls (that at first glance look like bookmarks) to its beautiful distressed leather covers, BookBook is truly a work of art.