The crew at Charleston, SC-based Twelve South is at it again, this time creating a high-quality Apple accessory that bridges the gap between old technology — wired headphone jacks found on airplanes and exercise equipment — and wireless headphones including Apple's AirPods. The AirFly wireless transmitter (US$39.99) plugs into those jacks normally reserved for wired headsets and transmits the sound to your wireless headphones.
Now, devices like AirFly aren't exactly new — I have used similar products in my cars for years to try to reduce the number of cables hanging around the driver's seat. But most of those other products have had issues: they either needed to be plugged in permanently for power, or had batteries that lasted only 3 – 4 hours max.
What Twelve South did with the design of AirFly is to make a wireless transmitter that is more like our other new wireless products — it has a built-in battery that lasts up to 8 hours, after which time it can be recharged via USB. For many long-distance flights, that gives you the opportunity to use your AirPods to listen to music or movies without the need to recharge.
As with all Twelve South products, the packaging for AirFly is brilliant. The device itself is tucked into a little niche in the box, with accessories (charging and connecting cables) in a bright red box with "Quick Start" instructions printed on it. The setup process is easy:
1 ) Set up AirFly by holding down the button on the front until LEDs behind the button blink amber and white
2) Pair your headphones by entering pairing mode on the headphones. With AirPods, you just open the AirPod charging case and press the button on the back of the case until the light inside the case flashes
3) Connect the AirFly to the headphone port on the airplane seat or entertainment system, on exercise equipment, or on any other device that you want to use with your AirPods or other wireless headphones
The AirFly itself is tiny and well built. It weighs just .55 oz (15.6 grams) and has dimensions of 1.8 inches high x 1.3 inches wide x .39 inches thick (44 x 36 x 10 mm). To keep you from losing that little white device and to ensure you always have the charging and connection cables close at hand, Twelve South provides a small gray velour drawstring bag to hold it all together — that's a nice touch.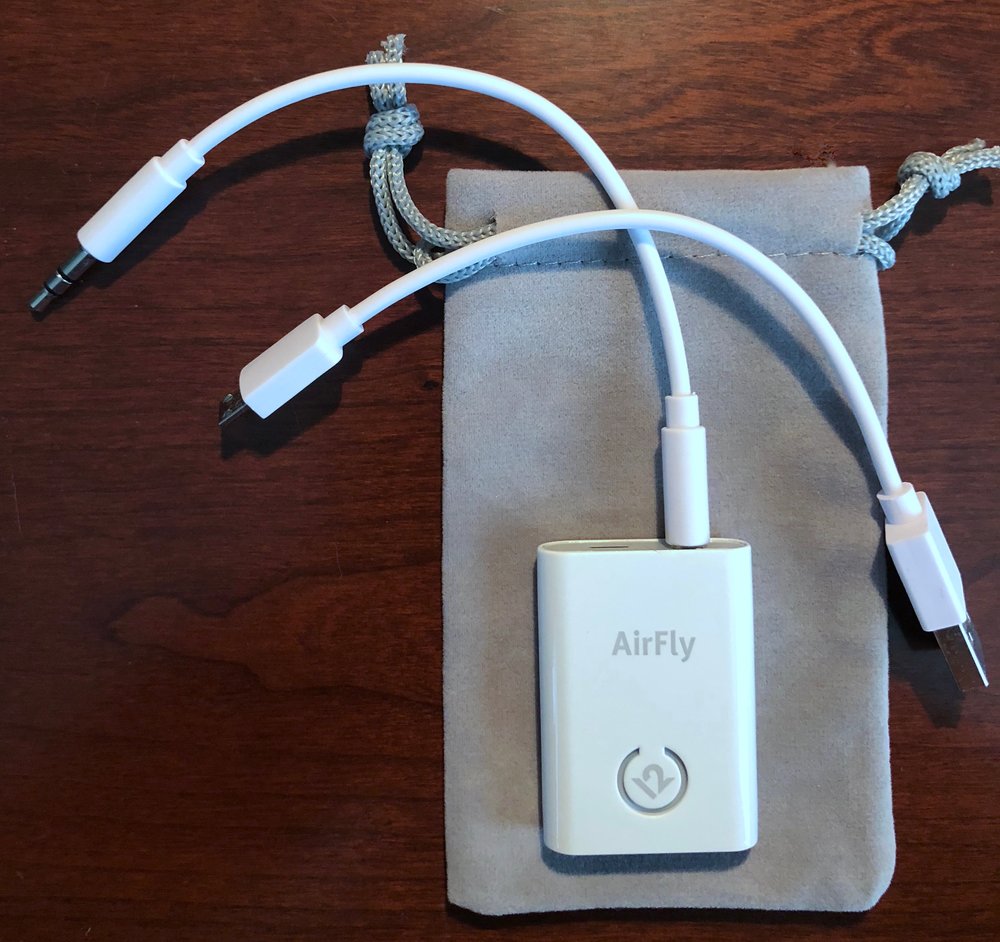 So how was the sound quality via AirFly from a device that's normally "wired"? I tried it out on a number of devices that have a standard audio jack — an older car that doesn't have Bluetooth built-in, an iPad mini, even a 12-year-old HDTV. In every case the sound through the AirPods — transmitted via AirFly — was solid with no static, no delay, and no disconnections.
Conclusion
Although our world is rapidly going wireless, there are still a number of locations where wired audio jacks still exist. The AirFly is an accessory that bridges the old and new technologies, designed and built with the quality that you expect from Twelve South.
Apple World Today Rating (out of 5 stars): ★★★★★
Like this review? Consider supporting Apple World Today with a $5 monthly Team AWT membership.