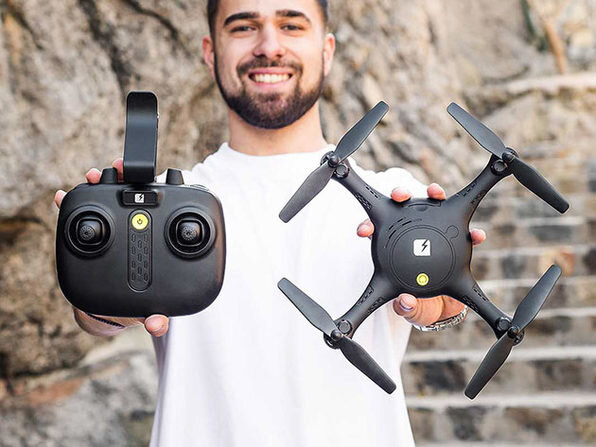 So, you want a drone. You look at those cool DJI drones and find out a) they're expensive, b) they're hard to figure out, and c) did we mention they're expensive? Make everyone happy with the TRNDlabs Spectre Drone, an easy to fly drone that we're selling today for just $59.99. It's easy to fly and inexpensive enough that you can buy a fleet of them!
Drone flight is extremely simple with Spectre! TRNDlabs most powerful drone yet, Spectre offers an unprecedented level of control and stability, with four high-speed propellors and an HD camera that would make the best smartphones envious. With an impressive 50-meter range, you can explore your world and watch a live feed using the Spectre app. It's perfect for adventures, taking beautiful photos of hard-to-reach places, or just capturing unbelievable footage of mid-air drone acrobatics.
Take your aerial photography to the next level w/ the HD camera

Fly easily w/ cutting-edge fly assist features including enhanced auto take-off & landing, and the ability to hold its altitude

Complete 360º flips w/ precision & power thanks to the 6-axis gyro sensitivity

Choose between beginner & expert flight modes

Fly at night w/ built-in LED lights

Immerse yourself in live, HD, first-person view flights using the IRIS VR goggles (sold separately)
Details & Requirements
Gyro: 6-axis gyro

Frequency: 2.4GHz

Channels: 4

Battery: 3.7V, 500mAh

Flight time: ~7 minutes

Charging time: 45 minutes

Controller battery: 4 AA batteries (not included)

Camera: 720p HD, 2.0 MP

Controller range: up to 50 m

Weight: 4.41 oz

Dimensions: 12.6″ x 12.6″ x 2.76″

Max width smartphone holder: 3.35″
Remember, the holiday season is just around the corner. If friends or family have been bugging you for a drone, don't spend a lot of money just to have them put it on the shelf collecting dust – get a TRNDlabs Spectre Drone.