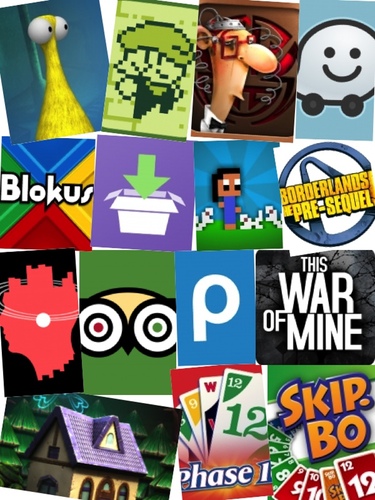 Here are some of the best free apps, app updates and new apps that have landed in the App Store recently. Today's notable apps include a discount on The Minims – A New Beginning, the new A Day In The Woods game and an update to Waze . All app prices are USD and subject to change. Some deals may expire quickly, so grab them while you can.
iOS Apps Now Free
Quiet, Please! [Now free, down from $0.99] After an annoying day at school, you just want some peace and quiet. But everything at home is so noisy!
Snap Save – save your photos and videos for snapchat free [Now free, down from $2.99] Save your snaps without the other person knowing!
Path Input: Better Swipe Keyboard [Now free, down from $3.99] Download this app, you can use a swipe keyboard anywhere, such as Mail, Message, Notes and so on.
IQ Mission [Now free, down from $0.99] In an extra-special mode, we recruit you to become a special agent. Will you take on the job?
Valiant Hearts: The Great War [Now free, down from $4.99] Immerse yourself in the touching story of four unsung heroes swept up by World War 1 in this unique interactive graphic novel that combines action, puzzles and adventure.
iOS Apps On Sale
Skip-Bo™ – The Classic Family Card Game [On sale for $0.99, down from $1.99] Download the official Skip-Bo™ App! Skip-Bo™, the popular family card game, officially licensed by Mattel™ is now in the App Store!
Phase 10 [On sale for $0.99, down from $1.99] If you like rummy then you'll love Phase 10. Race your opponents and complete your ten phases first, just make sure you don't fall behind.
The Minims – A New Beginning [On sale for $0.99, down from $1.99] The Minims is a game about a personal journey of an endearing creature of the Minim species.
Blokus™ – Attack, Block & Defend! [On sale for $0.99, down from $1.99] Stake your claim, protect your territory, and strategically block your opponents!
Discounted Mac Apps
Pixelmator [On sale for $14.99, down from $29.99] Pixelmator takes full advantage of the latest Mac technologies, giving you speedy, powerful tools that let you touch up and enhance images, draw or paint, apply dazzling effects.
Borderlands: The Pre-Sequel! [On Sale for $24.99, down from $49.99] Shoot 'n' Loot your way to the Moon!
This War of Mine [On Sale for $13.99, down from $16.99] In This War Of Mine you do not play as an elite soldier, rather a group of civilians trying to survive in a besieged city; struggling with lack of food, medicine and constant danger from snipers and hostile scavengers.
Type2Phone [On sale for $1.99, down from $9.99] Type2Phone works just like a Bluetooth keyboard: no additional app is needed
New and Notable Apps
A Day In The Woods [$4.99] Sneak past the big bad wolf, avoid massive spiders and distract bears to solve each level and get Little Red Riding Hood safely to Granny's house.
Tiny Dangerous Dungeons [$0.99] Hop into a classic Game Boy inspired metroidvania adventure with the little treasure hunter Timmy!
Last Voyage [$0.99] Last Voyage is an adventure through space and mind in 5 unique chapters. Go through psychedelic portals, solve mind-bending puzzles, explore grand minimal forms or race against the stars.
Updates you don't want to miss
Waze Social GPS, Maps & Traffic [$Free] Waze is the world's largest community-based traffic and navigation app. Version 3.9.4 brings the following changes:
Experience an overall faster Waze: smoother navigation, quicker route selection, and improved re-routing.
New traffic bar! Know how long you'll be in a jam, tracking progress as you go.
Learn which route Waze is taking with 'Let's go via' voice instruction.
Get a confirmation when sending your ETA: those receiving can instantly reply 'Got it, thanks'.
Improved support for U-turns
General bug fixes
TripAdvisor Hotels Flights Restaurants [$Free] With over 150 million reviews and opinions by travelers, TripAdvisor makes it easy to find the lowest airfare, best hotels, great restaurants, and fun things to do, wherever you go. Version 9.8 brings the following changes:
New for Apple Watch: Suggests places to eat or attractions to visit based on your current location and time of day.
New for Apple Watch: Save a place directly on the Apple Watch, which is synced to your TripAdvisor profile and is made available on TripAdvisor.com and TripAdvisor apps for iPhone and iPad.
New for Apple Watch: Supports Apple Maps for directions to places.
New for Apple Watch: Supports Force Touch on list view so that you can change search range and sort options.
New for iPhone: Read overviews from Wikipedia integrated right into our attraction listings.
New for iPhone: Search for hotels near a landmark.
New for iPhone: New Things to Do experience with improved filters and navigation.
New for iPhone: Quickly pick between photos of the hotel rooms, bathroom, or the pool area in our new hotel photo albums.