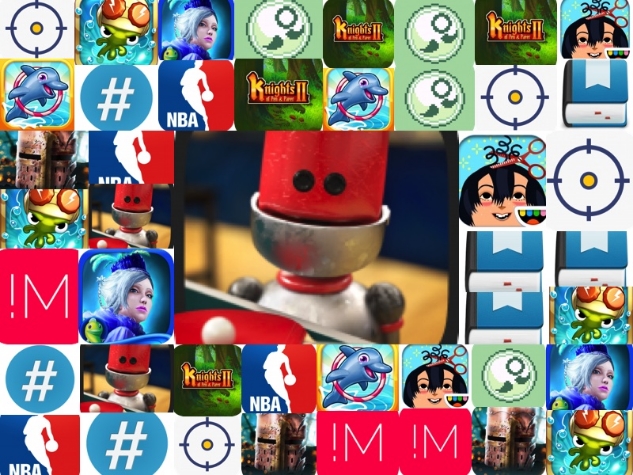 Here are some of the best free apps, app updates and new apps that have landed in the App Store recently. Today's notable apps include a discount on Pinnacle Studio; the Heroes and Castles 2 game; and a significant update to Day One for OS X. All app prices are USD and subject to change. Some deals may expire quickly, so grab them while you can.
iOS Apps Now Free
Zombies, Run! [Now free, down from $3.99] Join 1,000,000+ runners in an epic adventure!
Dark Parables: Rise of the Snow Queen HD – A Magical Hidden Object Adventure (Full) [Now free, down from $6.99] From the ashes of the snow, the legendary Snow Queen rises and terrorizes nearby villages with her supernatural powers.
Squids [Now free, down from $1.99] SQUIDS is a unique mix of action strategy and RPG: build your team of heroes for epic turn-based battles against corrupted crabs and shrimps!
Ping Analyzer – Graphical Network Ping [Now free, down from $0.99] Ping Analyzer is an easy to use graphical network ping tool that provides real-time round-trip time (RTT) statistics, as well as jitter and Mean Opinion Score (MOS) estimation.
Gentlemen…Ricochet Mini! [Now free, down from $0.99] Gent Mini is a remake/demake/sequel of "Gentlemen… Ricochet!", rethought completely as a simple one-button game.
iOS Apps On Sale
Table Tennis Touch [On sale for $0.99, down from $1.99] Stunning graphics, intuitive touch controls and exhilarating high-speed gameplay make Table Tennis Touch® the definitive table tennis game on mobile.
Do Not Move [On sale for $0.99, down from $1.99] Don't move your phone. You'll get points for every second your phone doesn't move! Do Not Move.
My Dolphin Show [On sale for $1.99, down from $0.99] The dolphin trainer and her dolphin are ready to impress the audience with a specular show. This is not a small aquarium, but a big show like you would see in Sea World or any other water park.
Toca Hair Salon 2 [On sale for $0.99, down from $2.99] Our bestselling app Toca Hair Salon is back in an even better version, with new characters, new tools, new accessories and even more hairstyling fun!
Discounted Mac Apps
Markdown [Now free, down from $6.99] Markdown is a text editor that is designed from the ground up around the Markdown syntax.
Solitaire [Now free, down from $2.99] Mastersoft Solitaire Favorites includes KLONDIKE (Windows PC Solitaire), SPIDER, FREECELL, GOLF, PYRAMID and many more solitaire classics. Where applicable, games are timed and use standard scoring.
Chess Deluxe [Now free, down from $0.99] Mastersoft Chess has one of the World's best chess engines crammed inside!
New and Notable Apps
Heroes and Castles 2 [$1.99] Enter Heroes and Castles 2, a 3rd person action-RPG, strategy, and castle defense mash-up!
Knights of Pen & Paper 2 [$4.99] Prepare to join Knights of Pen & Paper 2 in a turn-based, retro style, pixel-art adventure full of danger, intrigue, and semi-appropriate cultural references!
Updates you don't want to miss
NBA Game Time 2014-15 [$Free] Follow the excitement of the NBA Season with NBA Game Time for iPhone, iPad and iPod Touch. Version 6.4.4 includes the following changes:
Full 2015 NBA Playoffs support:
NBA Game Time on Apple Watch:
Day One [$9.99] Record life as you live it. From once-in-a-lifetime events to everyday moments, Day One's elegant interface makes journaling your life a simple pleasure. . Version 1.10 includes the following changes:
NEW: Day One Sync—An alternative service for syncing your Day One journal.
NEW: OS X Photos app support.
NEW: Mac OS X Share Extensions—Create entries using the OS X system share menu.
NEW: Added white menu bar icon to support dark menu mode.
NEW: Added two new fonts—"Open Sans" and "Roboto."
NEW: Added Diagnostics tab to Preferences for troubleshooting issues.