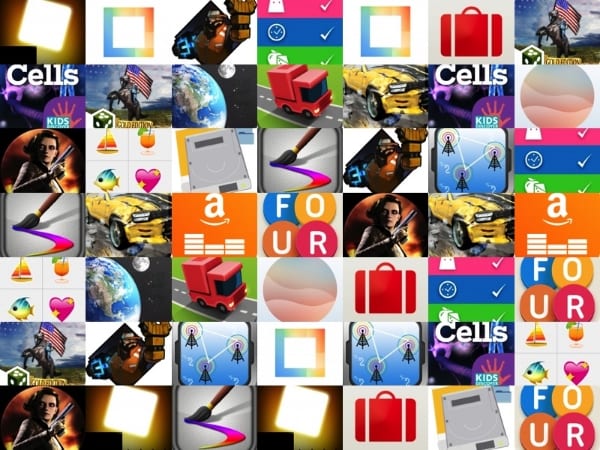 Here are some of the best free apps, app updates and new apps that have landed in the App Store recently. Today's notable apps include the now free SkySafari, the exciting new Four Letters puzzle game and an update to Amazon Music with Prime Music that enables radio stations. All app prices are USD and subject to change. Some deals may expire quickly, so grab them while you can.
iOS Apps Now Free
Find Tower – Locate all the cell phone GSM 3G 4G & LTE BTS antenna towers around you using wifi GPS to boost reception ! [Now free, down from $3.99] Use this amazing app to easily pinpoint and identify all the carrier towers around you. Often these are in plain sight but other times, they're disguised as trees or on top of roofs.
Travel List – Trip Packing and Planning [Now free, down from $1.99] Travel List is the easiest way to get ready for your next trip. Plan your itinerary, create a packing list in an instant and you're ready to go!
SkySafari 4 [Now free, down from $2.99] If you're new to SkySafari, this is basic version. It includes everything you need to get started learning the night sky: 120,000 stars; over 200 star clusters, nebulae, and galaxies; all major planets and moons, and dozens of asteroids, comets, and satellites – including the ISS.
BLiP [Now free, down from $0.99] Tumble, bounce and slide BLiP through an atmospheric world filled with deadly spikes and precarious platforms.
Orderly – Reminders, Tasks & To Do Lists [Now free, down from $0.99] Orderly is a nice and incredibly easy to use todo list app designed exclusively for iOS 8
iOS Apps On Sale
Emoji Keypad – New Emojis and Color Keyboard for iOS 8 [On sale for $1.99, down from $2.99] Get new emojis and color keyboard to liven up your holidays!
Fresh Air – Beautiful, personalized weather [On sale for $2.99, down from $3.99] A beautiful and intuitive way to see the weather and immediately understand what it means for your plans. Weather, intimately personal to you.
RGB Express – Mini Truck Puzzle [On sale for $1.99, down from $2.99] RGB Express is a unique and beautiful puzzle game.
Inspire Pro — Paint, Draw & Sketch [On sale for $5.99, down from $9.99] Inspire Pro delivers an amazing painting, drawing and sketching experience to your iPad.
Cells by KIDS DISCOVER [On sale for $2.99, down from $3.99] Learn all about how cells gather fuel, create energy, grow, and reproduce, with interactive cross-sections of a cell, animations of mitosis and meiosis, and a spinning double helix.
Discounted Mac Apps
Disk Space Pro [On sale for $0.99, down from $1.99] Disk Space Pro is an app that shows disk drive information. This includes hard drives, external drives, network drives, DVD's, CD's, memory cards, and USB drives.
Cargo Commander [On sale for $0.99, down from $4.99] Alone in space, light years away from your family, armed with only your Fistcannon™, Platform Drill and the meanest cup of coffee in the sector; you are Cargo Corps' latest recruit, a Cargo Commander.
Velvet Assassin [On sale for $0.99, down from $4.99] Inspired by the fascinating story and unbreakable spirit of British secret agent Violette Szabo, players take control of Violette Summer, a beautiful World War II spy deep behind enemy lines with no support or official backing from the British Government.
New and Notable Apps
Four Letters [Free] Game—Play—Word—Free These are the words of FOUR LETTERS.
Layout from Instagram [Free] Instagram's newest app lets you create fun, one-of-a-kind layouts by remixing your own photos and sharing them with your friends.
Civil War: 1863 Gold [$$9.99] Civil War: 1863 Gold contains all the campaigns and downloadable content from the original game with no in-app purchases
Updates you don't want to miss
Amazon Music with Prime Music [$Free] Expand your music collection with Amazon Music that includes Prime Music. Version 4.0 brings the following changes:
Introducing ad-free Prime Stations with unlimited skips
Personalized recommendations on Prime songs, albums, and playlists
New design for easier browsing of Prime Music and your library
Simplified navigation and faster performance
FlatOut 2 [$$6.99] Experience the drive of your life as you throw yourself around on and off the track causing fences to shatter, tyre walls explode, water tanks and barrels fly across the track into other cars. Version 1.1.1 brings the following changes:
Significantly updated graphics engine for new Macs
Vastly improved gamepad code