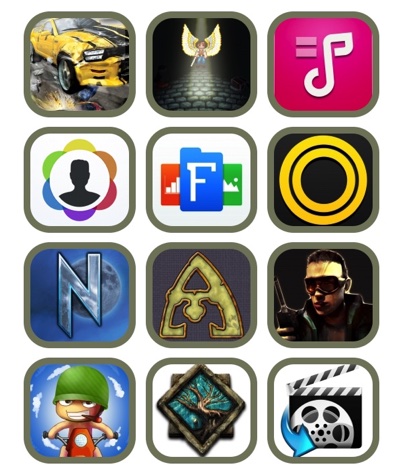 Here are some of the best free apps, app updates and new apps that have landed in the App Store recently. Today's notable apps include a discount on Over, the new adidas go fitness app and a significant update to Today in History app. All app prices are USD and subject to change. Some deals may expire quickly, so grab them while you can.
iOS Apps Now Free
Hello Moto HD: A Fun Car Racing Game [Now free, down from $0.99] One of the most addictive and entertaining physics based driving game ever made!
Over [Now Free, down from $1.99] Over is the app for adding text and artwork to your photos. Designed with mobile creatives in mind, Over features standard and custom-made fonts and well-crafted artwork combined with a sleek design, easy-to-use functionality, and immediate sharing ability.
Tunable: Tuner, Metronome, and Recorder [Now free, down from $2.99] Tunable is a chromatic tuner, tone/chord generator, metronome, and recorder that helps you learn to play steadily, in tune, and on beat.
The Ensign [Now free, down from $0.99] Have to survive. The war's not over. The Ensign is a prequel to the critically acclaimed experience: A Dark Room. This game is extremely difficult. Brutally difficult.
iOS Apps On Sale
File Pro – Ultimate File Manager & PDF Reader [On sale for $0.99, down from $2.99] Multipurpose, Easy-to-Use and Robust app for files & documents. Import files, documents & media from PC/Mac, email attachments, dropbox, sugar sync, iCloud & Box.net to File Pro along with amazing transfer features of FTP and Wifi.
WarMen [On sale for $0.99, down from $4.99] Opposing it, is the resistance, composed out of former military members that refused to join the Department. Marco is one of them, and the game tells his story. We join Marco as he is deployed on a mission to destroy scrambler devices placed around the city.
Nightfall [On sale for $0.99, down from $2.99] The sun has retreated from the earth, a week ago it shone its last, and now chaos has begun. People fear for their existence, and while scientists struggle to explain the phenomenon, the creatures of nightmare began to appear. Fear the Night!
Agricola [On sale for $2.99, down from $6.99] Europe is recovering from some hard times. You and a spouse must grow your 2-room hut and empty farmyard into a productive farm. You must sow and reap, raise animals and expand your family in order to thrive. Europe in the 17th century: a tough time to be a farmer!
Discounted Mac Apps
FlatOut 2 [On sale for $1.99, down from $6.99] Experience the drive of your life as you throw yourself around on and off the track causing fences to shatter, tyre walls explode, water tanks and barrels fly across the track into other cars.
iFunia VideoDownloader Pro [On sale for $1.99, down from $12.99] iFunia VideoDownloader Pro is an all-in-one video downloader and video converter for downloading online videos from most popular video-sharing sites on your Mac.
Icewind Dale: Enhanced Edition [On sale for $9.99, down from $19.99] Evil stirs beneath the Spine of the World. In the northernmost reaches of the Forgotten Realms lies the region of icy tundra known as Icewind Dale.
New and Notable Apps
The Enchanted Cave 2 [$2.99] Delve into a strange cave with a seemingly endless supply of treasure, strategically choosing your battles to gather as much treasure as possible!
adidas go [$Free] adidas go is a new running app that matches your favorite music from Spotify to your pace. It calculates your step count in real time and then serves you just the right song.
Updates you don't want to miss
Today In History iPad Edition [$2.99] Just another day?…NEVER! With Today in History, every day is historic and epic!. Version 4.0 includes the following changes:
Updated for iOS 7/8
Sleek & Intuitive Design.
Quote of the day: Timeless wisdom from iconic historical figures.
Images: Visual representation of every event, headline and quote.
Headlines: Details on major events that have shaped our world.
Notifications: Receive unique notifications of top events daily.
And of course various bug fixes…
Runtastic Me – Daily Activity, Health, Exercise & Fitness Tracker plus Step Counter App [$Free] Runtastic Me offers you reliable, on-the-go tracking to help you get a better understanding of your daily movements, personal habits and untapped potential.. Version 1.3.1 includes the following changes:
Your favorite 24-hour step & calorie tracking app is now better than ever!
Improved stability and minor bug fixes