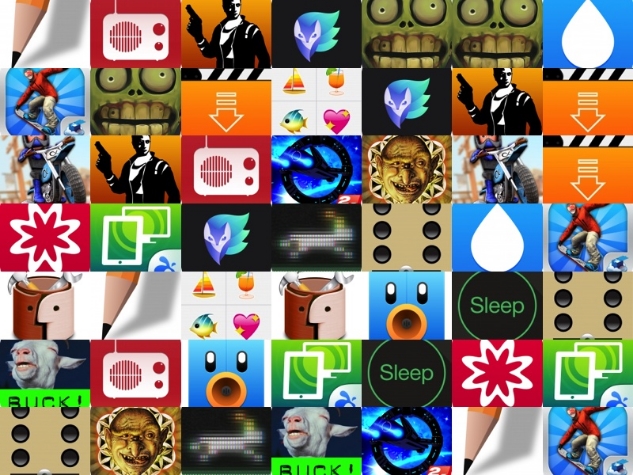 Here are some of the best free apps, app updates and new apps that have landed in the App Store recently. Today's notable apps include a discount on Goatup 2; the new Sleep Smart; and an update to JotForm that brings Apple Watch support. All app prices are USD and subject to change. Some deals may expire quickly, so grab them while you can.
iOS Apps Now Free
Draggy Dead [$0.99 → Free] Ditch your dead end job and take up a rewarding career in Grave Robbing today!
Goatup 2 [$3.99 → Free] Unleash your inner Matthew Smith with Goatup 2!
GoatUp [$1.99 → Free] GoatUp is easily the best goat-related platform game on iOS.
SuperPro Snowboarding [$1.99 → Free] "SuperPro Snowboarding" is iOS's ultimate freestyle snowboarding game. Do you have what it takes to become number one?
MathStudio Express – Symbolic (CAS) graphing calculator [$1.99 → Free] Whether you need a simple calculator to do your finances or a replacement for your TI graphing calculator, MathStudio Express is the most powerful and versatile calculator app on the App Store.
Cycloramic for iPhone 5/5S [$1.99 → Free] Cycloramic Revolutionizes the way you take panoramic photos and videos! Handsfree!
WaterMinder® – Water Hydration Reminder & Tracker [$1.99 → Free] Get help with WaterMinder®, an easy, intuitive app to track your water intake.
myTuner Radio : Stream radios stations and listen to music, sports, news, shows & podcasts [$1.99 → Free] More than 120 countries and 30,000 radio stations available in our application, from sports to news and music and many others to choose from.
iOS Apps On Sale
Hardboiled [$1.99 → $0.99] Hardboiled is a Fallout inspired role-playing game with turn-based combat.
Sid Meier's Starships [$14.99 → $8.99] Take command of a fleet of powerful starships in this adventure-driven strategy game from legendary designer Sid Meier.
Dominoes [$1.99 → $0.99] The game of dominoes has been around for centuries… but it has never been this fun to play!!
Spellcaster: Gatekeeper's Oath [$5.99 → $1.99] Spellcaster: The Gatekeeper's Oath is an interactive fantasy novel set in Suidemor, where danger lurks around every corner.
Enlight [$5.99 → $4.99] Enlight is the superior way to create stunning images on iPhone.
Video Downloader Pro – Download and Play Free Videos [$3.99 → $1.99] Download your favorite online videos
Splashtop 2 Remote Desktop – Personal [$4.99 → $0.99] Use Splashtop to access your computer on the local network with best-in-class video streaming performance.
Emoji Keypad – New Emojis and Color Keyboard [$1.99 → $0.99] Send NEW emojis, stickers and presets right from your keyboard!
Discounted Mac Apps
2Do [$24.99 → $49.99] GTD®, XYZ and everything in between – it can handle it all. Seriously.
Tweak and Tuneup [$1.99 → Free] Tweak and Tuneup is a collection of massive powerful tools to enhance the performance of your Mac.
Disk Diag – The Disk Cleaner: Clean and free up disk space [$5.99 → $2.99] lean and free up disk space with a few clicks!
New and Notable Apps
Cartoon Dirt Bike Runner – Free GP Motorcycle Racing Game For Kids [Free] Race to the west with your Dirt Bike in a fun adventure!
Sleep Smart [$2.99] With just a few simple steps you can fall asleep easier, improve your sleep quality and feel more rested.
Updates you don't want to miss
JotForm [Free] JotForm is an easy to use web form builder. You can create forms using a web based drag and drop form builder and get form responses emailed to you. . Version 2.9 includes the following changes:
Fixed minor bugs.
Added Apple Watch extension.
Tweetbot for Twitter [$12.99] Tweetbot is an award-winning, native Twitter client for the Mac.. Version 2.0 includes the following changes:
Tweetbot 2.0 for Mac is here! What's new? Everything is new! And as promised, it's a free upgrade! Thanks so much for all of your support and patience. The three of us truly appreciate it.