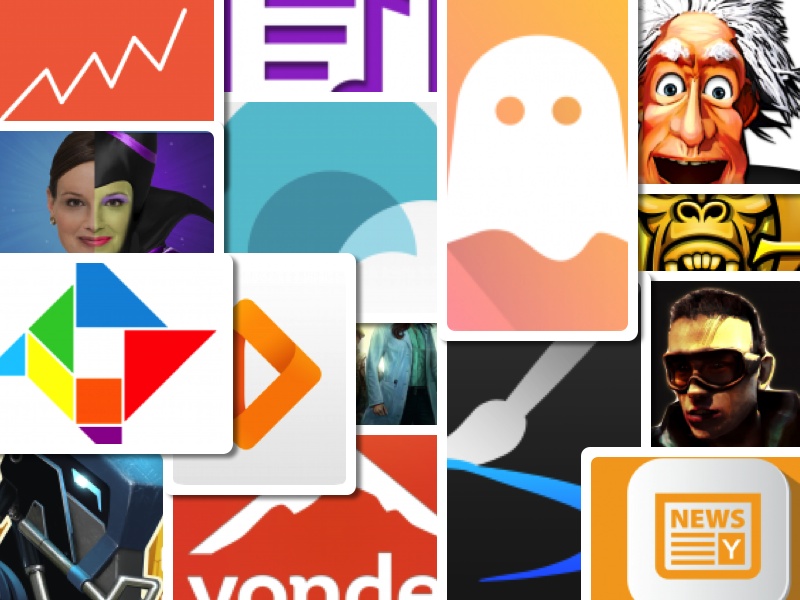 Here are some of the best free apps, app updates and new apps that have landed in the App Store recently. Today's notable apps include a discount on CrazyTalk7 PRO, the new Ghostnote for Mac, and an update to outdoor app Yonder. All app prices are USD and subject to change. Some deals may expire quickly, so grab them while you can.
iOS Apps Now Free
Loggr – Graph Your Life [Now free, down from $0.99] Everyday is an improvement on the last. Exercise more, eat more vegetables, read more books.
EPOCH.2 [Now free, down from $4.99] EPOCH has trekked across a war-ravaged country to find the one person he was programmed to protect: the Princess, Amelia.
Inspire — Paint, Draw & Sketch [iPhone; Now free, down from $4.99] Inspire delivers an incredibly fast and realistic painting, drawing and sketching experience that you can take with you wherever you go and use whenever inspiration strikes.
Temple Run: Oz [Now free, down from $1.99] Disney and Imangi Studios present Temple Run: Oz – a brand-new endless runner inspired by Temple Run 2 and the film Oz the Great and Powerful. Apple's app of the week.
iOS Apps On Sale
Pandemic: The Board Game [On sale for $4.99, down from $6.99] As skilled members of a disease-fighting team, you must keep four deadly diseases at bay while discovering their cures. Travel the world, treat infections, and find cures.
WarMen [On sale for $0.99, down from $4.99] In the year 2013 civil unrest across the globe pushes world leaders to merge the Police and Military into one force: Department of Control. A resort of United Nations that acquired secret technology, that was hidden from the public for decades.
Puzzlium: Prologue [On sale for $0.99, down from $2.99] Play five puzzle games in one app, with over 4,000 hand-crafted puzzles.
OS X Apps Now Discounted
MackerNews: The Hacker News Client [On sale for $5.99, down from $9.99] MackerNews is the best fully functional Hacker News desktop client for Mac.
WidgeTunes [On sale for $0.99, down from $2.99] Play your favorite music from Yosemite's Notification Center and menu bar.
CrazyTalk7 PRO [On sale for $74.99, down from $99.99] CrazyTalk7 is the most popular facial animation tool that uses sound and text to vividly animate facial images.
New and Notable Apps
Ghostnote [OS X; $4.99] Already one of the most talked about productivity apps. Featured on ProductHunt.
Show Your Disney Side [iPhone; Free]We all have a Disney Side—the side of us that comes out to play the moment we step through the gates at Disney Parks. The new Show Your Disney Side app will help bring YOURS to life!
Fountain: Live Expert Help for Home Improvement [iPhone; Free] Live video chat with home & garden experts. Talk to an architect, interior designer, master gardener, carpenter, plumber, or appliance repair specialist right now.
Updates you don't want to miss
Yonder – Outdoor Adventures [Free] Plan your next adventure with Yonder. Created for everyone—from backyard explorers to backcountry adventurers—Yonder connects you to the people, places, and experiences that inspire. Version 3.0 brings the following changes:
We've completely reconfigured Yonder's map feature to make it easier for you to discover our 20,000 destinations! Now when you click on the map icon you'll see popular destinations and experiences near your current location.
We've added autocomplete for hashtags and usernames! Tired of typing out the same hashtags or trying to spell someone's username correctly? So were we! This update will make tagging friends/hashtags much easier.
We've updated the navigation bar to make moving throughout the app simpler and more user friendly. Plus it allows you to post an experience from almost anywhere!
Infuse Pro [iOS Universal; $9.99] Ignite your video content with Infuse Pro – the beautiful way to watch almost any video format on your iPhone or iPad. Version 3.2.2 brings the following changes:
Improved SSA/ASS subtitle support
Improved AirDrop reliability
Better handling of TV shows streamed from Plex
Resolved SFTP and WebDAV connection issues
Resolved issues with some https download URLs not working
trakt sync reliability improvements
Other stability and performance improvements