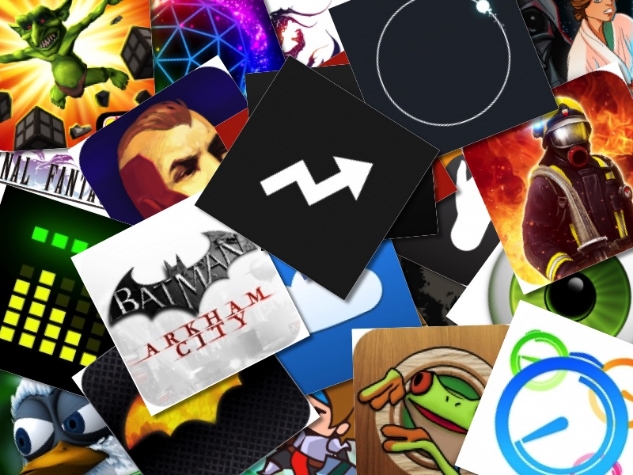 Here are some of the best free apps, app updates and new apps that have landed in the App Store recently. Today's notable apps include a discount on Drylands; the new Star Wars – Heroes Path game; and an update to Swype! All app prices are USD and subject to change. Some deals may expire quickly, so grab them while you can.
iOS Apps Now Free
Kapsula [$1.99 → Free] Kapsula is a puzzle/racer set in a Soviet space colony full of clones. *WARNING: It's a difficult game, comrade!
Warhammer: Snotling Fling [$1.99 → Free] The Warhammer Old World trembles in fear as Gorbad Ironclaw leads a thunderous Waaagh!
Chromaticon [$1.99 → Free] Chromaticon is a challenging, fast-paced color matching game that will test your perception and reflexes.
Orbitum [$1.99 → Free] Orbitum is a hypnotic rhythm-based reflex game of light and darkness.
Drawing Box [$1.99 → Free] Drawing Box is recommended by schools for their students for its creativity tools and recreational features. Bring a painting studio in your pocket, and enjoy unlimited painting activities.
System Monitor – Battery Health, Free Memory, Used Space. [$0.99 → Free] The app monitors MEMORY USAGE, BATTERY LIFE, Used Space, Running processes and device information.
Talking Larry the Bird [$0.99 → Free] WHISTLE, SING and FLY… Meet Talking Larry the Bird, your very own singing, feathered friend.
Timer 7 – Multiple timers for time management, kitchen, gym, errands and gtd [$0.99 → Free] Quickest to set a new timer of all apps, by far
iOS Apps On Sale
FINAL FANTASY V [$15.99 → $7.99] Return to the classic medieval tale of magic, monsters and friendship with FINAL FANTASY V!
Drylands [$2.99 → $0.99] In a ravaged world, where the "juice" is the only nutrient and most valuable resource, a prisoner teams up with the people of Serenity and so begins an adventure that will change the wastelands' fate…
FINAL FANTASY IV [$15.99 → $7.99] The title first debuted in 1991 as the fourth installment in the FINAL FANTASY series. Wildly popular thanks to its unique characters and dramatic storylines, it went on to be ported to many different platforms.
Hero Emblems [$3.99 → $1.99] Match Tiles, Beat' em Up, Adventure – Brand New Experience of Classical JRPG.
Mextures [$1.99 → $0.99] Mextures is the best app for applying film grain, textures, light leaks and beautiful gradients to your images in seconds.
Nebulous Notes [$4.99 → $0.99] Nebulous Notes is the text editor of choice for professionals. I
Threema [$1.99 → $0.99] Threema is a mobile messaging app that puts security and privacy first. With true end-to-end encryption, you can rest assured that only you and the intended recipient can read your messages.
Pencil Camera HD – Real cartoon camera FX [$1.99 → $0.99] Be an artist! At least for the moment… Take pictures with amazing effects with a realtime preview.
Discounted Mac Apps
1Password – Password Manager and Secure Wallet [$49.99 → $34.99] 1Password creates strong, unique passwords for every site, remembers them all for you, and logs you in with a single click.
Batman Arkham City GOTY [$19.99 → $4.99] A year after the events of Batman: Arkham Asylum, Quincy Sharp, the new mayor of Gotham, has turned its slums into Arkham City, a terrifying open-air prison where violent thugs and insane super-villains are incarcerated within heavily fortified walls.
Batman Arkham Asylum [$19.99 → $4.99] Descend into the core of the criminally insane as the Joker seizes control of Arkham Asylum and launches his most diabolical plot ever.
LIMBO [$9.99 → $4.99] Uncertain of his sister's fate, a boy enters LIMBO.
New and Notable Apps
BuzzFeed News [Free] The BuzzFeed News app brings you the most important and most interesting stories from around the web, hand-picked by our editors.
RESCUE: Heroes in Action [$2.99] Dive into realistic, suspense-packed missions with your firefighting unit, where your decisions can often mean the difference between life and death.
Star Wars – Heroes Path [$3.99] Lead the Rebel Alliance to victory!
Swing Racers [$2.99] Swing Racers is a 3D racing game with controls that the touch screen has been waiting for!
Xenowerk [$1.99] Be the last hope against the mutant infestation. Enter the aftermath of a scientific experiment gone horribly wrong.
Updates you don't want to miss
Glimpses [$9.99] Tell your story in a fun, novel way with Glimpses and turn your photos into stunning Still Motion videos.. Version 2.0 includes the following changes:
Face Detection: Glimpses analyses your photos for faces and places the photos in your video accordingly for much nicer results.
Soundtrack Selection: The new soundtrack selection lets you add multiple soundtracks and select only the parts you need.
4K Resolution: Going beyond 1080p, 2K and 4K resolutions have been added.
Projects: You can now save your projects.
Swype [$0.99] Why type when you can Swype? Swype is the most accurate keyboard on the planet.. Version 1.5 includes the following changes:
Emoji Keyboard
Living Language*
A fun new way to learn about recently added features. You can also view version-by-version details in Settings
New Language: Spanish Latin America