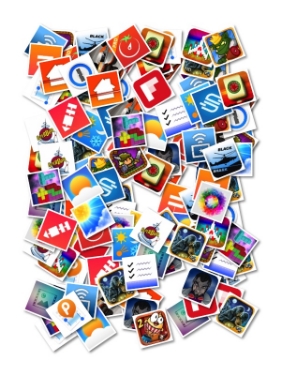 Here are some of the best free apps, app updates and new apps that have landed in the App Store recently. Today's notable apps include a discount on Air Sketch; the new Spare Lens – Photo & Video Editor; and a notable update to Flipboard! All app prices are USD and subject to change. Some deals may expire quickly, so grab them while you can.
iOS Apps Now Free
Twin Moons HD (Full) [$6.99 → Free] Reveal shocking secrets from the past and save the future in this thrilling hidden object adventure!
Twin Moons (Full) [$4.99 → Free] Reveal shocking secrets from the past and save the future in this thrilling hidden object adventure!
Drop The Chicken 2 [$1.99 → Free] Drop The Chicken 2 is a super cool, fully animated, addictive and challenging puzzle game.
Buff Knight – RPG Runner [$0.99 → Free] Play the EPIC retro RPG runner – Buff Knight! Developed by a 1 man studio, this pixel graphic game has stormed the top charts in Korea. Now it's your turn!
Block vs Block [$2.99 → Free] Modify the world most attractive puzzle game.
Mahjong™ [$3.99 → Free] The goal is to remove all the tiles from the board. You may remove only paired free tiles. The tile is free when there are no tiles either to the left or to the right from it.
MegaWeather – Detailed Weather Forecast, Widget and Temperature on the Icon Badge. [$2.99 → Free] Your own personal weather station at your hands, get all the weather information what you are need, right now.
Pocket Lists – Checklists & Reminders [$4.99 → Free] Pocket Lists is a beautifully designed universal app for managing checklists and to-do lists, focusing on important tasks, and collaborating on checklists with your friends.
PhotoViva [$1.99 → Free] This is the Number 1 Photography app in China!
RoomScan – The app that draws floor plans by itself [$0.99 → Free] RoomScan draws floor plans all by itself – just touch each wall with your phone!
MagicalWeather [$0.99 → Free] MagicalWeather is a stunning weather app, brought to you by MeteoGroup, Europe's leading private weather company.
iOS Apps On Sale
Sentinels of the Multiverse [$9.99 → $4.99] Calling all Sentinels! Do you have what it takes to defend the Multiverse? Compose a team of comic book heroes, each with their own playstyles, backstories, and grudges.
Black Shark – Combat Gunship Flight Simulator [$2.99 → $0.99] Ultra realistic flight simulator of the Ka-50 attack helicopter. Black Shark offers an extreme level of realism in regards to flight dynamics, sound effects, and weapon systems.
Dungelot [$1.99 → $0.99] Dungelot is fun, addictive casual roguelike with easy controls. Flip over tiles to reveal amazing treasures or deadly monsters in your search for the key to exit the level.
HyperBowl [$1.99 → $0.99] Be the ball! Bowl around the richly imaginative original six fantasy worlds – the eerie Classic lane, ancient Rome, an idyllic Forest, rocking High Seas, the streets of San Francisco and the bright night lights of Tokyo.
Champ Cars Racing Simulator [$1.99 → $0.99] Start your engines and hit speeds over 300 mph! Champ Cars Racing Simulator is open-wheel racing on your iPhone, iPad and iPod Touch.
Tydlig – Calculator Reimagined [$4.99 → $0.99] Tydlig brings the calculator to the next level for iPhone & iPad with innovations like freeform canvas, responsive results and linked numbers.
Grafio – Diagrams & ideas [$8.99 → $5.99] Make neat, clean diagrams and schemes easily. Explain your idea or just clear it out for yourself mind mapping it.
American Almanac – Guide for Farmers & Sky Watchers [$1.99 → $0.99] A guide to nature that brings you long range weather forecasts — sun, moon & astronomy — best days — gardening — and much more in a beautiful, easy to use app.
Air Sketch: Interactive Whiteboard and Wireless Presentations [$9.99 → $4.99] Turn your iPad into a wireless whiteboard! Annotate PDF slides and images live in 3 easy steps.
Pomodoro Time Pro: Focus timer for work and study [$1.99 → $0.99] Pomodoro Time is a powerful personal productivity tool incorporating the principles of the Pomodoro Technique*.
Discounted Mac Apps
1Password – Password Manager and Secure Wallet [$49.99 → $34.99] 1Password creates strong, unique passwords for every site, remembers them all for you, and logs you in with a single click.
ReadKit [$9.99 → $4.99] ReadKit is a full-featured read later and RSS client that supports services from Instapaper, Pocket, Readability, Pinboard, Delicious, Feedly, Fever, NewsBlur, Feedbin and Feed Wrangler and has built-in RSS capabilities.
Silkscreen [$13.99 → $12.99] Silkscreen gives you a live preview of your Photoshop designs on the iPhone and iPad.
Trine [$9.99 → $1.99] Trine is a beautiful fantasy action platformer with a fairytale-like atmosphere, following the journey of three heroes – a Wizard, a Knight and a Thief – in a quest to save the kingdom from evil.
BioShock Infinite [$29.99 → $9.99] BioShock Infinite puts players in the shoes of U.S. Cavalry veteran turned hired gun Booker DeWitt.
Trine 2 [$14.99 → $2.99] Trine 2 is a sidescrolling game of action, puzzles and platforming.
New and Notable Apps
Watermark Video Square – Video Watermarking App for Instagram Facebook and Twitter [$0.99] Watermark Video Square™ Easily protect your video with your own text watermark.
Spare Lens – Photo & Video Editor [$1.99] Spare Lens is a simple but powerful video and photo editor. Apply filters, adjustments, tilt-shift blurs and sharpen, overlay light leaks, and amazing effects.
Updates you don't want to miss
Flipboard: Your Social News Magazine [$Free] Flipboard is your personal magazine, at your desk, in your back pocket or on your wrist. . Version 3.3 includes the following changes:
Express yourself by posting original text and images to your magazines
Use the new compose icon to highlight text for your magazines
Block unwanted followers or make your profile private
Paste – Clipboard history managerhttps://itunes.apple.com/us/app/paste-clipboard-history-manager/id967805235?mt=12 [$9.99] Paste is a new way to copy & paste for your Mac. It keeps everything you've ever copied and lets you to use your clipboard history anytime you need it.. Version 1.0.2 includes the following changes:
This update fixes compatibility issues with other applications that work with the clipboard and contains the new implementation of the Direct Paste feature.
It also enables files sharing
Makes it possible to use any modifier keys for activation shortcut
Ignores 1Password mini properly
Fixes Ctrl-click behaviour
Fixes deleting of items via Delete key