This summer, Americans should keep a close eye on their prized smartphones. Mobile protection claims data from Asurion, a global tech solutions company, indicates the summer months see more than a 50% jump in smartphone loss and theft.
To help arm consumers against this summer surge, Asurion purposefully "lost" smartphones in three major cities across the U.S. to test the likelihood of them being returned. The result: Locked phones featuring a contact number on the device's lock screen were three times more likely to be returned to their owners.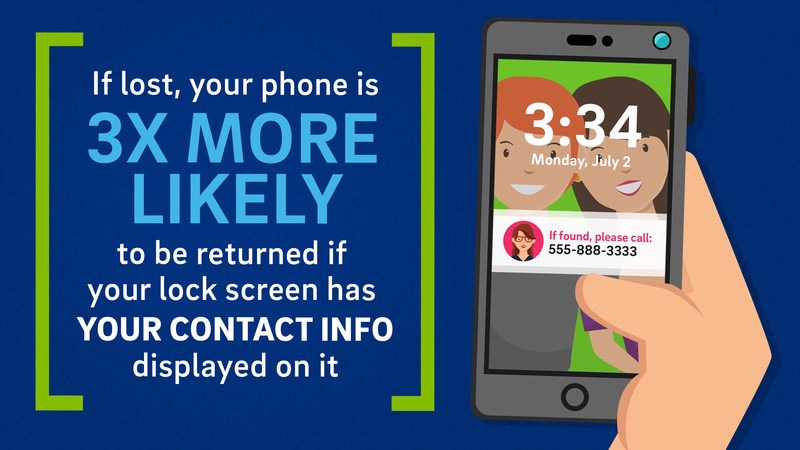 Seventy-one percent of Americans lock their smartphones with passcode, fingerprint or facial recognition protection. However, less than 1-in-4 say their screens are password protected with contact information featured on the screen, according to a recent Asurion survey,
"It's great that a majority of Americans keep their phones locked with a passcode, but that makes it nearly impossible for a good Samaritan to return it to you," says Bettie Colombo, Asurion spokesperson. "Adding an image on the lock screen that includes an 'if lost' contact number or email address makes it easier for someone to return it to you. Our data shows this simple trick will greatly increase your chances of getting your phone back if you lose it."
Asurion, which provides device protection and tech help services to millions of wireless customers, left smartphones at key summertime hotspots in Los Angeles, New York City and Atlanta, including the beach, popular parks, and on public transit to emulate common real-life summer scenarios for tourists and locals. Half of the phones were left with the screen locked with a contact number displayed right on the screen for easy return, while the other half were left unlocked with a contact phone number listed within the phone's contact list. Here are some tips from Asurion tech experts on how to keep your device safe this summer:
Add your contact info on a locked screen: Add your contact number or email address to any photo.
Enable Find my iPhone. Go to Settings, tap on your name at the top of the Settings list, then tap iCloud, and look for Find My iPhone to confirm it's on. Set "Send Last Location" to ON. This will automatically send the phone's location to iCloud any time that the iPhone's battery is critically low.
Don't assume the worst. Many people don't call the establishment where they accidentally lost or left their phones, thinking there's little chance of getting them back. During Asurion's experiment, it heard from many organizations that had drawers full of lost phones waiting for owners to reclaim them.
---
Like this article? Consider supporting Apple World Today with a $5 monthly Team AWT membership.