What do you do when you're the CEO of Apple and you're taking a little down time in NYC? You visit the New York Stock Exchange with your nephew and have fun with traders on the floor.
Tim Cook visited the NYSE floor this morning, and his appearance was highlighted live on CNBC's "Squawk Alley". CNBC's Bob Pisani tweeted a photo of Cook signing the famous "Hulk Fists", a pair of large green fists that are signed by celebrities who visit the trading floor.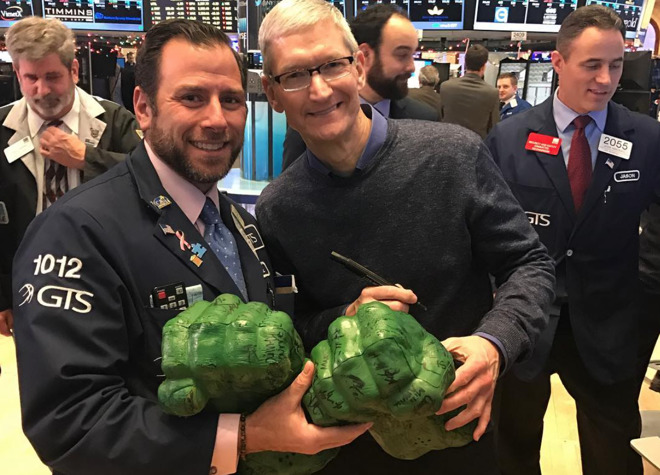 Of course, reporters quickly crowded around Cook trying to get word on how Apple appears to have performed over the holidays. Cook declined comment, as he should, but did offer some insight when asked about AirPod availability.
Cook noted that "AirPods are a runaway success, and we're making them just as fast as we can," a sign that the newest Apple iconic design may see better availability in the first calendar quarter of 2017.
When asked why he was visiting the NYSE, Cook noted that he was inspired to visit the floor to show his nephew what traders do for a living.