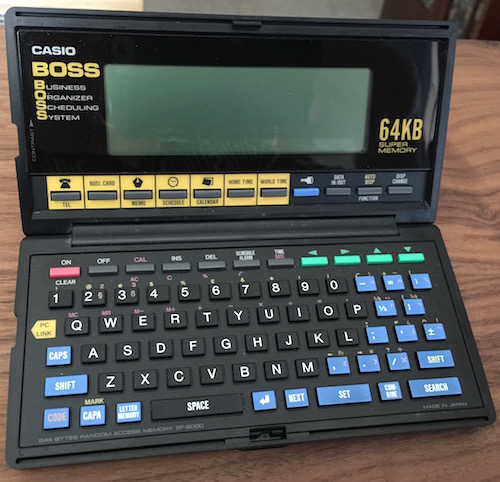 Back before the Newton MessagePad made a splash in 1993 as the first "Personal Digital Assistant", several consumer electronics companies were making handheld devices designed to do all of the things that we take for granted now on our iPhones and Apple Watches — take short notes, check our calendar, make appointments, and look up phone numbers. One of these devices was the Casio B.O.S.S. SF-8000 — one of which I have in my Museum of Obsolete Technology.
B.O.S.S. stood for "Business Organizer Scheduling System." This device came out in 1990 at a price tag of about $260 (equivalent to about $480 now). It had a real keyboard rather than the flimsy membrane keyboards used by some other organizers. The display was a 32-character by 6 line LCD, the contrast of which could be adjusted with a small thumbwheel. The picture below is taken from eBay, where you can still find these devices available for sale.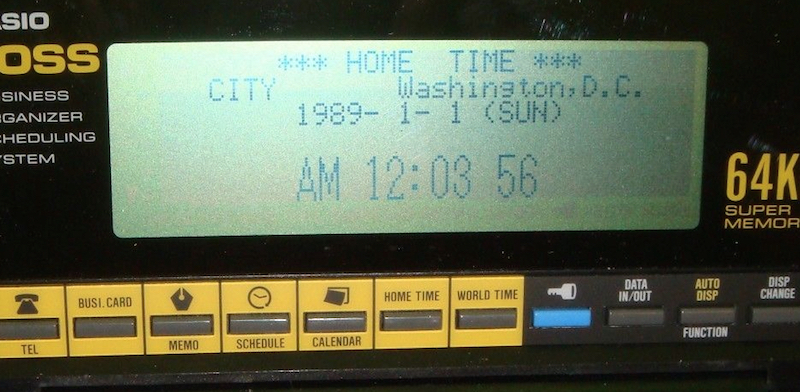 So how much storage did this device have? A whopping 64K! The company touted that as being enough to store 1,400 names, phone numbers, and addresses. The B.O.S.S. could actually sync to both PCs and Macs via a PCLink port. To do so, you had to purchase both a special cable and an application named Laplink from a company called Traveling Software that is still around!
The B.O.S.S. would run for about 85 hours on three lithium batteries. Once that time was up, you needed to get out a screwdriver and remove three screws from the bottom of the device to replace the batteries. It weighs about 8.5 ounces without those batteries installed, and is almost exactly the same width and height as an iPhone 6 Plus — but a lot thicker.
This device really seemed like a "pocket computer" to those of us who used them at the time. Of course, I was used to a similar device with a full-size keyboard — the Radio Shack TRS-80 Model 100, which still has to go down as one of my favorite portable computers of all time. But to be able to put something with the power of the Model 100 in your pocket? It was inconceivable!
The B.O.S.S. seen here was given to my wife as an incentive at work; at the time, she worked on the Titan launch vehicle program, which explains the blue "TITAN" logo on the front of the case. It doesn't work right now as I haven't replaced the batteries in years. If you'd like to read more about the B.O.S.S., there's an old InfoWorld review here and a full user manual here.
Frankly, I like my handheld organizer that I have now — the one that's on my wrist that I can talk to… Have any memories of devices similar to the B.O.S.S SF-8000? Let us hear about 'em in the comments.