Do you want/need an iPhone-enabled alarm clock, speaker, radio, USB charger, and disco ball all in one? Then you need the BEDDI from WITTIDesign. It packs a serious amount of features for a $99 device.
Okay, I'm just kidding about the disco ball; the feature is more like a lava lamp. But let me back up. The BEDDI is an "intelligent" alarm clock with features that include a wake-up light, multiple USB charging ports, a Bluetooth speaker, and multi-colored mood lighting. The latter supposedly offers16 million colors. I'll take WITTIDesign's word for it; I didn't count. You can set the BEDDI to awake you by playing your own playlists of tunes (thanks to Spotify integration, though Apple Music integration would be even better).
The device's "intelligence" refers to much more than its alarm clock features. The BEDDI can learn your morning commute and periodically update you on how much time you have until you need to leave based on current traffic conditions. You can press a button to request an UBER ride from a pre-set pickup location; the BEDDI will let you know when your ride has arrived
You set up and control the BEDDI via a free iOS app that's downloadable from the Apple App Store and easy to use. The interface is nice and clean.
Of course, the main feature of the smart alarm clock is, well, its alarm clock. You can set up to four alarms and have them, as mentioned, wake you up with music or FM radio (the BEDDI comes with an attachable antenna). It can also wake you up "naturally" with a sunrise simulated wake-up light. If you need background noise while you sleep (I can't sleep in total silence; I always have a fan running), you can set the WITTIDesign gadget to generate white noise. You can listen to rain, wind, ocean, and forest sounds.
The speaker on the BEDDI is very good for a device its size, thanks to its dual three watt integrated speakers. However, it's in the "extras" department that the gadget really shines. You can charge your iPhone and iPad with two USB charging ports (2.1A + 1A). Once it's synced with your iPhone, you can use the "phone finder" feature when your smartphone hides from you. And the BEDDI has three customizable smart buttons that allow you to control smart home devices from Hue Philips, Wemo, Lifx, and Nest.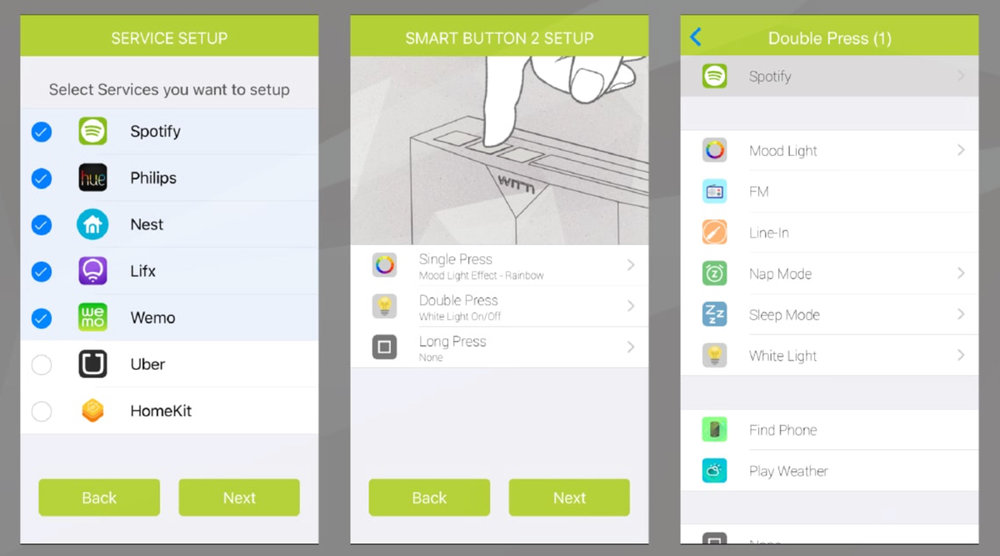 The BEDDI sports an attractive minimalist design. The front is covered by an acoustic fabric. The clock portion itself is made from an LED illuminated display that shines through this fabric.
The BEDDI is a great all-around gadget for getting you up and ready for the day ahead — and for getting you ready for that day by helping you sleep at night. It's definitely worth the 99 bucks.