If ever there were a speaker system built for use in the summer, it's the $79.95 Turtle Shell wireless from Outdoor Tech. It's a water and dust resistant Bluetooth boom box designed for the great outdoors.
However, note that it's water and dust RESISTANT, not water and dust PROOF. Drop the Turtle Shell into the pool, and it's going to end up as one very quite tortoise. Note also that, though it's described as shock proof and is, indeed, rugged, you're not going to want to, say, run over it with your Jeep.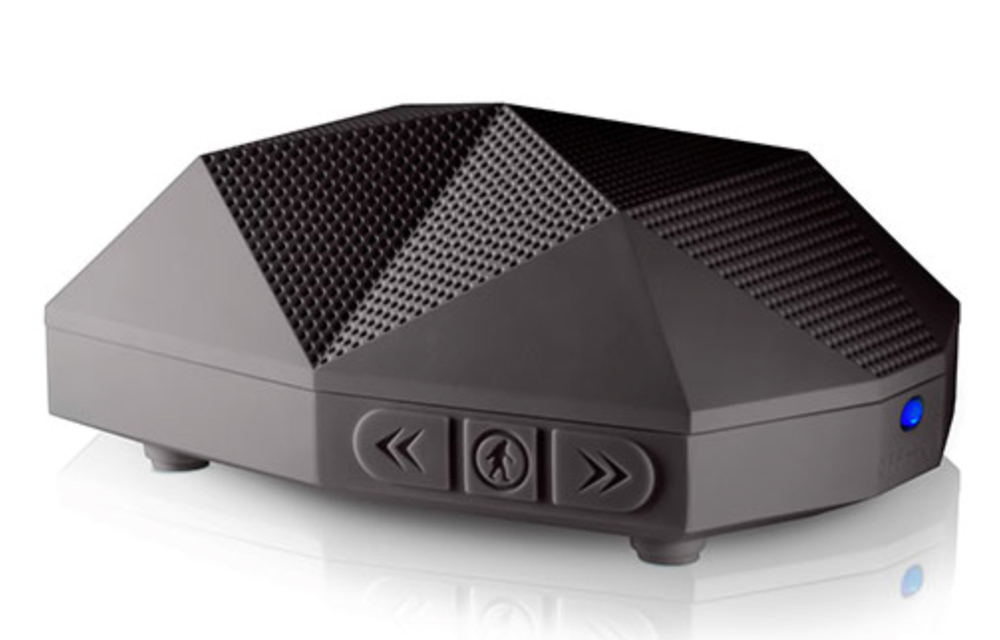 Actually, the angular, tri-themed construction doesn't resemble a turtle that much — though the green one does with a little stretch of the imagination (the speaker is also available in white, red, blue, pink and "sea foam"). The design is to allow it to fit into a variety of places and spaces, which it does with aplomb.
The shell itself has a rubberized coating that can be cleaned, which comes in handy since it's a speaker system designed for use in the sometimes-dirty outdoors.
The Turtle Shell boasts Hi-Fi sound of good, though not great, quality. The speaker's tiny, up-drivers can't muster any real output below 300 Hz, so the Turtle Shell is a midrange/treble system. The bass is surprisingly deep for such a small device, though the gadget emits tabletop vibrations at higher volumes.
Integrated controls Provide fast access to control tracks, volume and calls directly at the touch of a button. What's more the Turtle Shell includes a built-in speakerphone and microphone functionality with integrated track, volume and call controls. However, the microphone function only works when the speaker is connected via Bluetooth.
The Turtle Shell is versatile. It connects to your smartphone, tablet, laptop, or any other Bluetooth-enabled device. There's also a jack for wired audio. The folks at Outdoor Tech say it streams audio for up to 30 feet for eight hours on a single battery charge (which takes close to three hours). I found those claims to be relatively accurate.
You pair the Turtle Shell with your Bluetooth device by pressing and holding the multifunction button. You use your source device to select the Turtle and play tunes.
The Turtle Shell has a cleat so you can hang it from a hook if you wish. You can also buy additional mounting accessories for placing the Turtle Shell on your bike handle bar or stroller. The bottom of the speaker has a metal loop which can be used with a carabiner to, for instance, attach the speaker to a bag. The Turtle Shell speaker also sports a standard tripod mount sized threaded socket that lets you hook it onto items such as Joby Gorilla Pod tripods. On the other hand, it's too bulky to fit into most pockets.
The Turtle Shell is tough, easy to use and has an interesting look. You'll find it a fine outdoor speaker with the expected audio limitations due to its size.
---
Classic protection: Pad & Quill's Little Pocket Book Case for iPhone® SE