I must preface this review by first admitting that I am kind of a bag lady. I LOVE nice bags. Most of the time I am the one doing the admiring though, not the owning. So, when the opportunity to review both the HardCase MacBook Case and the Cozmo 2.0 Laptop Bag by WaterField Designs, this was one happy bag lady.
Also, I feel that it's worth mentioning that, as a bag lover, I am extremely picky. So this review is going to be a bit more scrupulous than others. But if you want an outside opinion, other than mine, then you can see my dad's from our text message exchange that's pictured.
He's still trying to get this bag from me. It's not going to happen!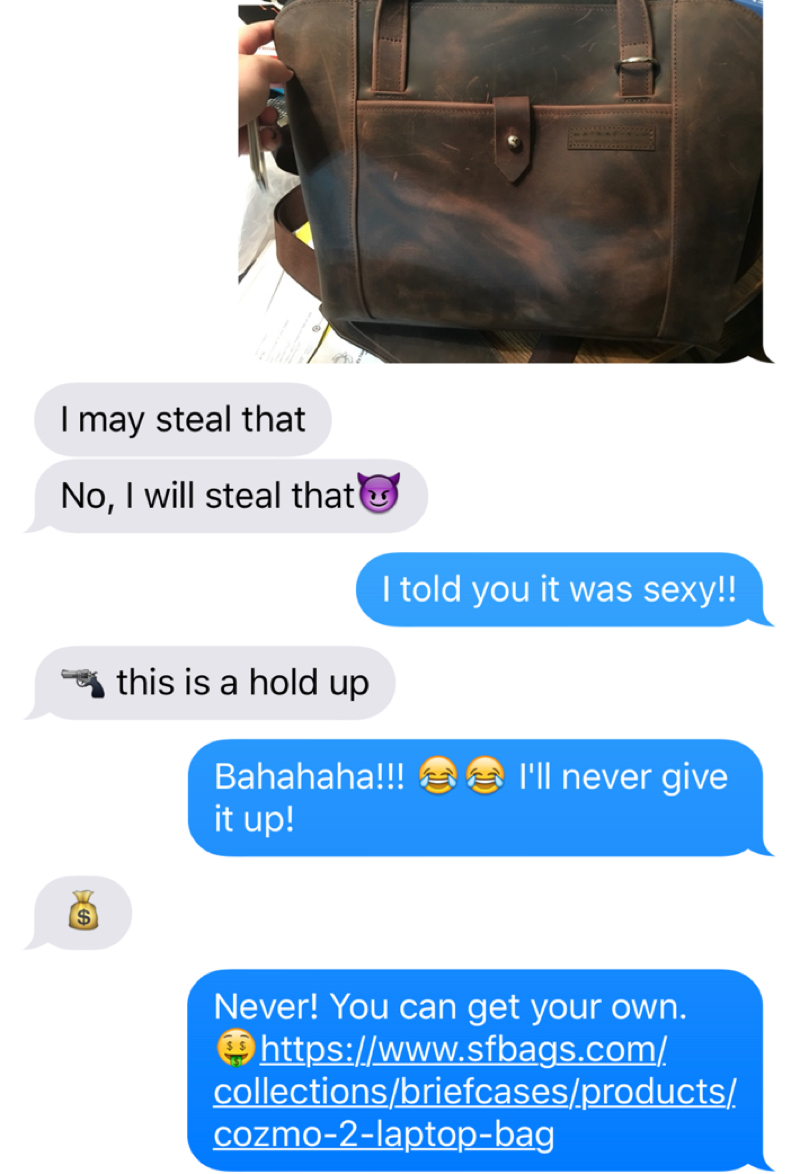 Now that I have babbled enough, what do I really think of the Cozmo 2.0 laptop gag? I love it. There are few things I will gush over, but the Cozmo 2.0 Laptop Bag has made the very short list. I have used it every day for the last few weeks and I could not be happier with it.
The Cozmo 2.0 Laptop Bag has: a large main opening; two large interior pocket, big enough for power adapters; a padded computer pocket with a secure Velcro strap; an interior key tether; a front exterior pocket with leather strap closure; a back exterior pocket (my favorite pocket for quick access); a slot for a rolling suitcase; removable leather shoulder strap with a grippy underside; and two Exterior D-rings (which are great for keys(.
What I wish was better
I will say that I wish the 13-inch bag was bigger. While my 13-inch MacBook Pro fits in the padded computer pocket, my 13-inch work computer (sadly, not a Mac) doesn't. However, it does fit in the bag with plenty of room, so I just carry my work computer around in the main storage area of the bag.
What I love
As I mentioned above, my MacBook Pro fits in the padded computer slot with ease. However, my computer NEVER leaves its BookBook case by Twelve South — which means it is carried in the main body of the bag as well. What I find amazing is that both of my computers, personal and professional, fit in the bag together, with chargers. It does make the bag slightly bulky, but very functional.
I am also a big fan of the pockets. They are well designed and functional — better than most computer bag pockets. The two interior pockets are large and deep. Perfect for accessories or a computer charger.
This is all well and good, but let's be honest: if you are looking to buy the Cozmo 2.0 Laptop Bag it's not just because of functionality. It's also because of style, and craftsmanship. These two qualities are what make the $369-$389 price tag understandable.
One of the most unique qualities and design elements is that every Cozmo 2.0 Laptop Bag is made from one cowhide. This gives the bag a consistent and beautiful look. Second is that all bags are crafted locally in San Francisco.
The quality is something you have to experience for yourself. At $369-$389 this bag is not for everyone, However, if you can afford the investment, it will be the last bag you every buy.