Apple isn't doing enough to tout the Watch's greatest feature: it makes you less annoying.
I'm nearly two weeks into Apple Watch ownership and exactly what that entails is taking shape. It's an effective iPhone sidekick, and a shiny piece of jewelry that seems to be off most the time, which is weird. It has made me more aware of the physical activity I get during the day and the oddly comforting thwack of the Taptic Engine is becoming less odd all the time.
Best of all, the Apple Watch has made me easier to tolerate. To explore why, we must look back at the iPhone.
For years, the hardest part of buying a phone was selecting the model you were willing to look at every 30 seconds for the next two years. It's a habit that makes people crazy. "There he goes, looking at his phone again." The incessant beeping and buzzing is also irritating. You can engage Do Not Disturb on your phone, but what if you miss something? Here's the setup I'm using that allows me to receive all the notifications I want without driving my companions to homicidal rage.
On the iPhone
Flip the switch
Silence all vibrate options
On the Apple Watch (via the iOS Watch app)
Set Alert Volume to mute
Set Haptic strength to high
That's it. Now your iPhone and your Watch will remain silent whenever a notification arrives. Your Watch will tap your wrist, but no one will be aware. The Watch's display won't even light up unless you raise your arm, so you needn't worry about bothering anyone, yet you never miss a notification.
If you do look at an incoming message, the amount of time it takes you to briefly glance at your wrist is negligible compared to taking your phone out of your pocket.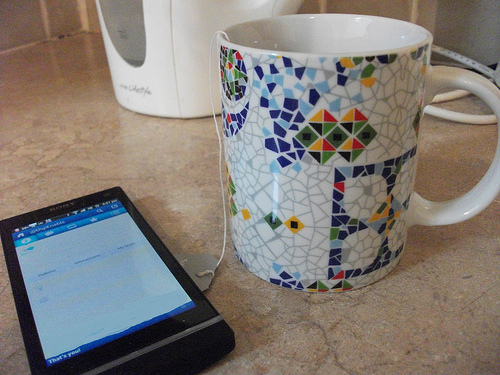 These settings have also eliminated the dreaded "phone on the table while we're talking" habit. That idle slab at your elbow says, "This device is more important than you, friends, and if it wants my attention I will abandon our conversation and shift all my attention to it immediately."
Consider the mute/mute/Haptic setup yourself. Your loved ones, tired of staring at the top of your head, will thank you.
Photo Credit: DigiEnable via Compfight cc