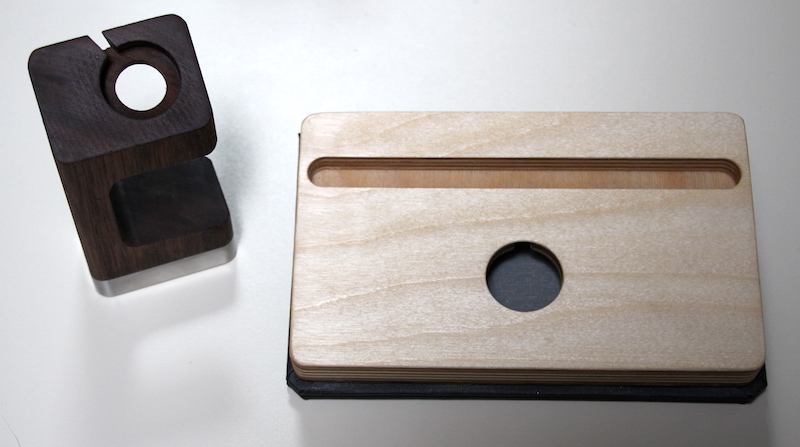 Last week Apple World Today reviewed three Apple Watch charging stands: the Griffin WatchStand, the Nomad Stand for Apple Watch, and Fuse Chicken's Bobine Watch. We also took a side trip to take a look at an odd little Watch stand on Kickstarter: WATCHme. This week we're back with even more charging stands for the Apple Watch, this time from DODOcase. The company has not one, but two charging stands that we'll look at; the DODOcase Dual Charging Dock Organizer (US$79.95) and the Apple Watch Charging Stand ($99.95).
DODOcase Dual Charging Dock Organizer
DODOcase got its start making the first book-type cases for iPad and iPhone, and the San Francisco-based company is still going strong. For the Dual Charging Dock Organizer, the company stayed true to its design roots, using a handmade bookbound cover with a Baltic Birch tray like many of the iPhone and iPad cases.
Now, what do they mean by Dual Charging Dock Organizer? Simple. This is a two-in-one charging dock for iPhone and Apple Watch with a built-in cable management system. It's portable for travel, with a hidden storage compartment for saving cables and extra Watch bands.
Fold back the "front cover" of the Dual Charging Dock Organizer, and you see the beautiful birch tray. It has a slot in it for an iPhone (sorry, but one with a thick case is not going to fit), and a hole for the Apple Watch charging cable "puck".
Apple World Today is happy to provide its readers with notification of significant App Store updates and notable new apps on a regular basis.
Updates
Numerous bug fixes and improvements
Evernote Scannable (iOS) version 1.2.1
Numerous bug fixes and improvements
TextExpander 3+ custom keyboard (iOS) version 3.5.1
Fixes potential freeze when using fill-in from another app
Fixes potential freeze when updating snippets from another app
Other fixes and improvements
Fixes most common crashes for users running the iOS 9 beta
Fix for an issue where some files would appear under the wrong month when sorted by date
Instagram (iPhone) version 7.2
We're thrilled to introduce a redesigned Explore tab in the US, featuring several major updates:
Trending tags and places: Dynamically updated content gives you a real-time look at what's happening nearby—and all over the world.

Curated collections: Explore a rotating selection of people and places—like extreme athletes or national parks—hand-picked by Instagram.

Places search: Now that you can search by location, it's easy to explore an exotic vacation destination or see what's happening in your neighborhood.
While the redesigned Explore tab is currently only available in the US, we've also improved search for everyone else. You can now:
Search by location: Find posts specifically tagged with a place name.
Search all posts: Do a quick power search across username, name, hashtag or location.
United MileagePlus point tracking is back! Update your settings, relax, and leave the tracking to us.
Introducing LoungeBuddy! Let LoungeBuddy guide you to the best place to take a break in the airport (iPhone only).
We squashed some pesky bugs.
---
Notable New Apps
Jet – Online Shopping (iPhone) version 1.0
Jet is a shopping membership that gets you savings on pretty much anything you buy. We find every opportunity to cut costs, and pass the savings back to you.
Check out the four ways to maximize savings at Jet.
Start off with low member prices.
Save up to 20% just to start on pretty much anything you buy, from small sizes to bulk. We show you competitive prices so you see how Jet compares.

Watch savings increase in real time as you shop
Look for the Smart Cart icon to find Smart Cart items that give you extra savings on your order. With each Smart Cart item you add, watch savings on items across the site get bigger.

Get bigger savings on bigger carts.
Smart Cart items cost less to fulfill when bought together. The more Smart Cart items you add to your cart, the more you save.

Opt into even more ways to save at checkout
You can waive your right to return your purchase or choose a lower cost payment method in return for more savings
Card King: Dragon Wars. An INSANELY GREAT and FREE Battle game with an endless array of creatures that where YOU harness each creatures magical and powerful cards!
WIZARDS AND WARRIORS. READY YOUR DECKS!
Journey to the land where Cards become creatures and creatures battle against powerful and magical enemies each with their own unique card battle spells, strategies and abilities!
SIMPLE, YET DEEP!
Decide if you want the strength of a Warrior or the cunning Spellcraft of a Wizard as you choose your avatar to summon your magical creatures and lay down your battle cards. What unique strategies will you come up?
BUILD YOUR COLLECTION!
Command an ever changing army of awesome creatures, including Dragons, Immortal Knights, and Elementals to unleash their Card Abilities in an all out Card War!
CUSTOMIZE YOUR DECK!
Hundreds of creatures come with Hundreds of Awesome Cards and abilities that make every battle new and unique. Power-up and transform as your creatures and cards become even more powerful as you customize your team to suit your battle style.
MULTIPLAYER FUN!
Play in matches against opponent Heroes or fight against other Card Kings as you make your way up the ladder to win loot, prizes and honor!
MAGICAL GRAPHICS!
Epic 3D Card Battles where you Explore the magical wizard tower, dungeon depths and a town full of life and wonder where you enter magical stores and walk out with incredible collection of cards and creatures!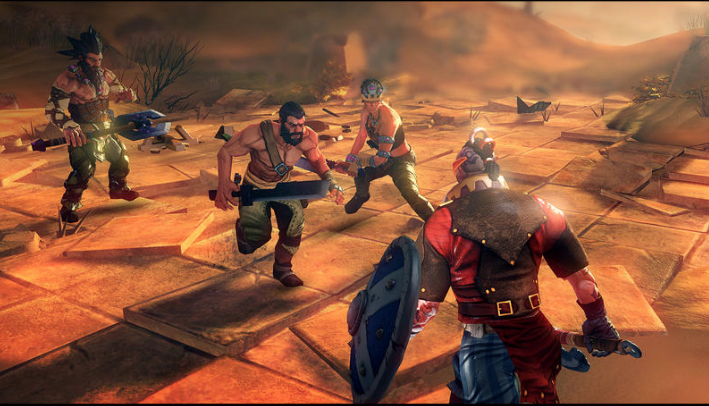 Deckbuilding comes to life in Hand of Fate! An infinitely replayable series of quests – earn new cards, build your deck, then try to defeat it!
Beyond the thirteen gates at the end of the world, the game of life and death is played. Draw your cards, play your hand, and discover your fate. Hand of Fate is a hybrid roguelike/action-RPG/deck builder, in which the player builds a set of cards into a deck, which is then used to deal out the dungeon floors through which they adventure. Upon entering a combat, all of the cards the player has collected fly into their hands as fully modeled 3D assets, and combat begins.
Build your deck, enter the world of Hand of Fate, and prepare to face the Ace of Skulls.
Features:
• Tabletop card game brought to vivid life.
• A unique take on roguelike gameplay.
• Visceral action-RPG combat.
• Game changing gear and items make every play through unique.
• Hundreds of encounters, items, armor, weapons, artifacts, and mysteries to unlock.
• Unique deck building mechanics let you customise your own adventure, as you seek to defeat the Jack, Queen and King of each suit.