WaterField Designs' Transit Travel Case is a distinctive new travel accessory that will especially appeal to guys. Custom-designed to keep transportation-related necessities organized and accessible, the $99 auto document case eliminates the unpleasant experience of digging through a cluttered glove compartment to find registration papers, insurance cards, a tire gauge, and other vehicle necessities.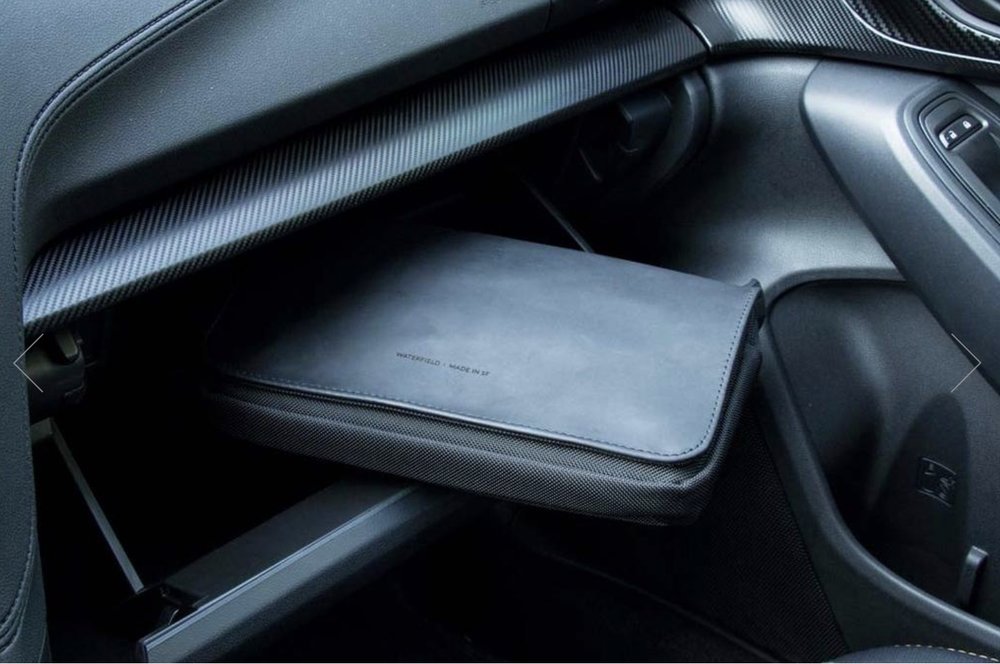 The slim Transit Travel Case also makes a good grab-and-go pouch for road trips or vacation travel. It sports a zippered main compartment (in either tan waxed canvas or black ballistic nylon) that holds a vehicle manual, small flashlight, tire pump gauge, a phone charger, maps, and other items that tend to clutter up a car. Four internal pockets — deep on one side and raised on the other — keep items from gathering at the bottom of the case, and a gold liner lights up the interior, making contents easier to see.
The front of the glove compartment organizer hosts two full-length and three card-sized pockets to organize and display registration papers, proof of insurance, car wash coupons, roadside assistance information, and other cards and documents one might need to access on the road. A full-grain leather flap with a handy leather pen slot, held in place with invisible magnets, covers the full front of the case.
For road trips, the Transit Travel Case can be loaded with passport, tickets, phone, wallet, keys, and personal items and used as a grab-and-go case for stops along the way. It transforms into a handy minimalist satchel when tucked under an arm or a classy organizational pouch when stashed into a work or travel bag.
The Transit Travel Case is available in waxed canvas with chocolate leather or black ballistic with black leather. I prefer the former.
Apple World Today Rating (out of 5 stars): ★★★★
---
Like this article? Consider supporting Apple World Today with a $5 monthly Team AWT membership.