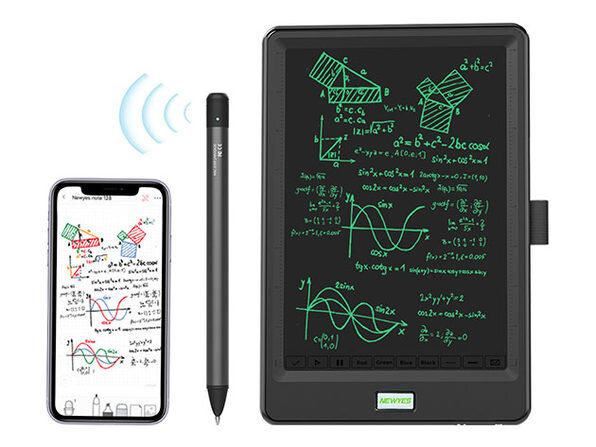 Call me old-fashioned, but I like to take notes on paper with a pen. Usually these notes are "scanned" by taking a photo of them in the Notes app, and then I add keywords. Now there's a better way to take notes: the SyncPen 2nd Generation Smart Pen and Notebook ($149.99) sends handwritten notes directly to your iPhone and an LCD pad as you write them, then converts your handwriting to searchable text.
Writing notes and encoding them into your computer or laptop takes too much time. No one wants that! This SyncPen 2 helps you switch between writing traditional notes and electronic editable notes. With a motion-tracking sensor on the inside, the pen turns everything you write into digital text, converting your hand-written notes and hand-drawn doodles and sketches into editable digital files. It comes with a 10″ LCD writing pad, which lets you take notes in different colors, while also allowing you to perform activities like directly send your notes as an email to others, collaborate with teams to share notes, and even record audio logs alongside your text. Note-taking made easy!
Successfuly funded on Kickstarter!
Converts hand-written notes & hand-drawn doodles and sketches into editable digital files

Allows capturing 360°angles of notes, not at a specific angle

LDC writing pad enables paperless writing & can also be used in offline mode

Identifies 66 languages & imports handwriting into text

Synchronously records your audio with the note

App keeps & sorts your notes by word or date

Converts into a variety of format; from an MS Word document to a PDF or a JPG
You'll find the SyncPen 2 to be a great sidekick to your iPhone for note-taking. Get one today!