There are a plethora of hubs for use with the 2016-2017 MacBook Pros and 12-inch MacBooks, but sometimes you just need a compact dock with specific functions. Enter Moshi's $124.95 Symbus USB-C Hub.
It charges and connects your USB-C loving Mac laptop to an HDMI monitor (4K@30Hz, 1080p@60Hz). There's a Gigabit Ethernet port for wired data transfer up to 1000 Mbps and two USB-A Gen 1 ports for connecting a keyboard, mouse, hard drive, etc.
The USB ports have a transfer data rate of 5Gbps. Both provide fast charging in addition to the data delivery. Aside from those four ports, there's a DC power port on the back that connects to a standard power pack and cord for the dock.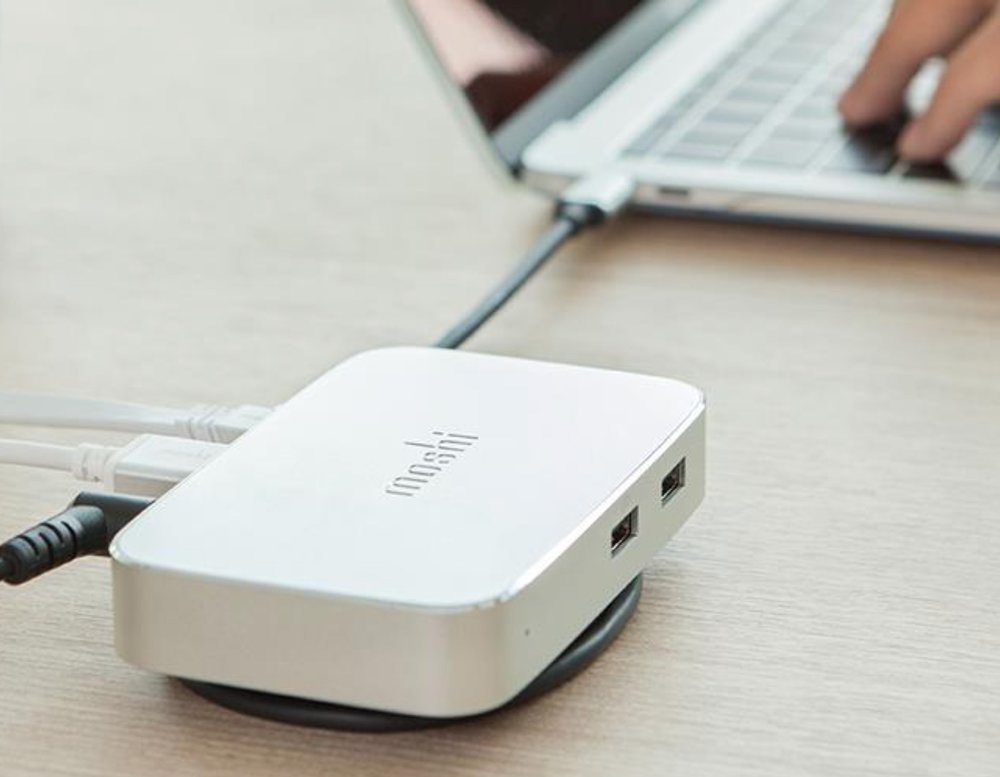 The Symbus can handle 4K video output, as well as digital surround sound. The aluminum-encased hub also boasts fast-charging of a laptop (up to 65 W) and features Moshi's proprietary Smart LED that allows you to see the charging status. 
One caveat: the 65W is only compatible with MacBooks and MacBook Pros up through the 13-inch model from late 2016. The 15-inch MacBook Pro (late 2016, mid-2017) with Touch Bar requires 87W of power in order to charge it. 
Using the Symbus is easy; you just plug it in. It's Thunderbolt-3 compatible and 100% plug 'n play, so no drivers are needed. There's a free Moshi USB-C Dock utility app available at the Mac App Store. It lets you see the charging status of your Mac, eject any connected devices, and update the firmware if needed. It's a handy utility, but not necessary to use the hub.
The Symbus — available only in a silver flavor — measures 4.53 x 2.8 x 1.14 inches, so is easily transported. It's a bit on the pricey side, but offers a lot of functionality in a package for owners of new Mac laptops.
Apple World Today Rating (out of 5 stars): ★★★★