I'm not sure how "hot" (in the literal sense) the next MacBook Pro — certain to be unveiled this Thursday — will be. However, when running high-demand apps (such as Final Cut Pro X), a laptop's built-in cooling system can get a bit toasty, leading to processor throttling and slower performance.
If you've experienced this — or simply don't want to take a chance that you will — the $295 SVALT D2 is worth the $295 investment. It's designed to transform your laptop into a desktop workstation via its built-in cooling system, temperature sensor and automatic speed control. The SVALT D2 also provides a Turbo mode so you can manually implement a blast of cool air. Also, there are a number of advanced, customizable, user-determined cooling modes.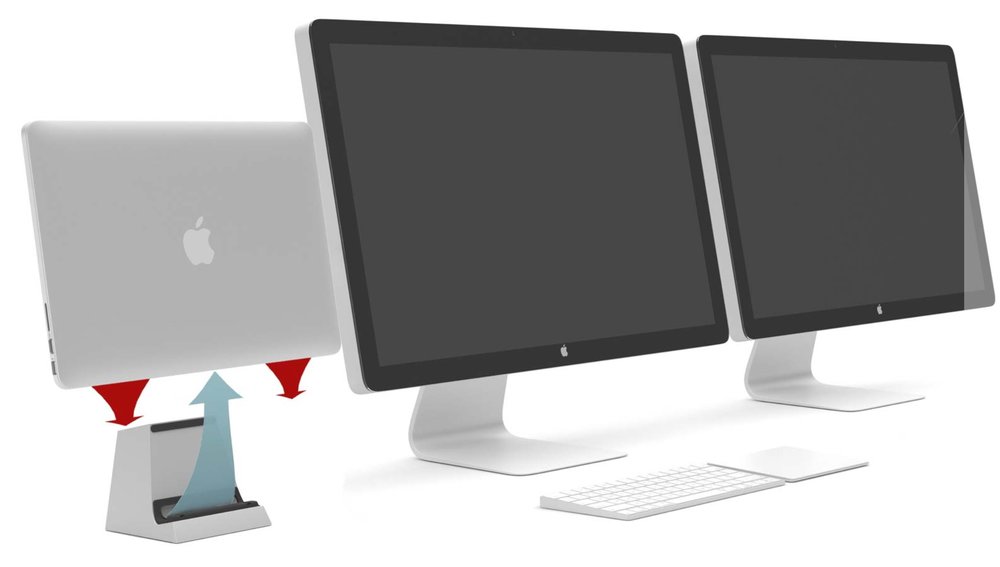 Overall, the SVALT D2 runs quietly (well, expect for Turbo mode). However, you can also turn off the fan if you wish and still see benefits. Namely, your laptop's internal fans and vents will operate with enhanced performance thanks to the stand's vertical orientation and the aluminum heat sink's passive cooling.
The SVALT D2's adjustable pad accommodates a wide range of devices, such as all sizes of the MacBook Pro, MacBook Air, and 12-inch MacBook (although you're not likely to need it for the latter two Mac laptop models). And it should easily accommodate new laptops introduced at Thursday's "hello, again" Apple media event.
TheD2's leaning clamshell configuration with adjustable retention pad design helps to accommodate future and thinner laptop models, and this innovative configuration allows for quick and secure opening of the laptop to access the power button and keyboard without requiring removal from the support cradle or cable disconnection.
Besides keeping your Mac laptop running cool, the SVALT D2's leaning configuration allows it to stay docked during the power-on process to avoid accidental cable disconnection or a laptop drop, while also allowing for quick desktop-to-mobile transitions. This will be especially handy if Apple ditches the MagSafe ports on all its laptops as it did with the 12-inch MacBook. Since the SVALT D2 weighs two pounds and boasts an adjustable rubber foot, it doesn't slide around the surface of your desk.
The SVALT D2 supports laptops in closed-screen mode while connected to an external power source, monitor and keyboard/mouse. The device is designed for designers, artists, photographers, videographers, gamers, 3D designers, engineers, and others who need to keep their Mac laptop running cool while getting peak CPU and graphics performance. If you fall into any of these categories, check it out.