The great thing about using a laptop is that it's easy to work anywhere — at least in theory. I'm using a 15-inch MacBook Pro with Touch Bar. When I'm away from my desk, balancing it on my lap is awkward (and can make my legs a little toasty). Enter the $100 Slate Mobile LapDesk from iSkelter.
Not only does it make life more convenient and more comfortable, when I want to use the Mac laptop on the couch or in bed, it has room for a mouse, the external hard drive that my iTunes library is stored on, and my iPhone. With it, I'm ready to rock and roll — which usually means working on Apple World Today articles.
The Slate Mobile LapDesk is ergonomically designed. Its mousepad balances to the right and the laptop is centered, facing your body. It's like having a small, portable desk to accompany your portable computer.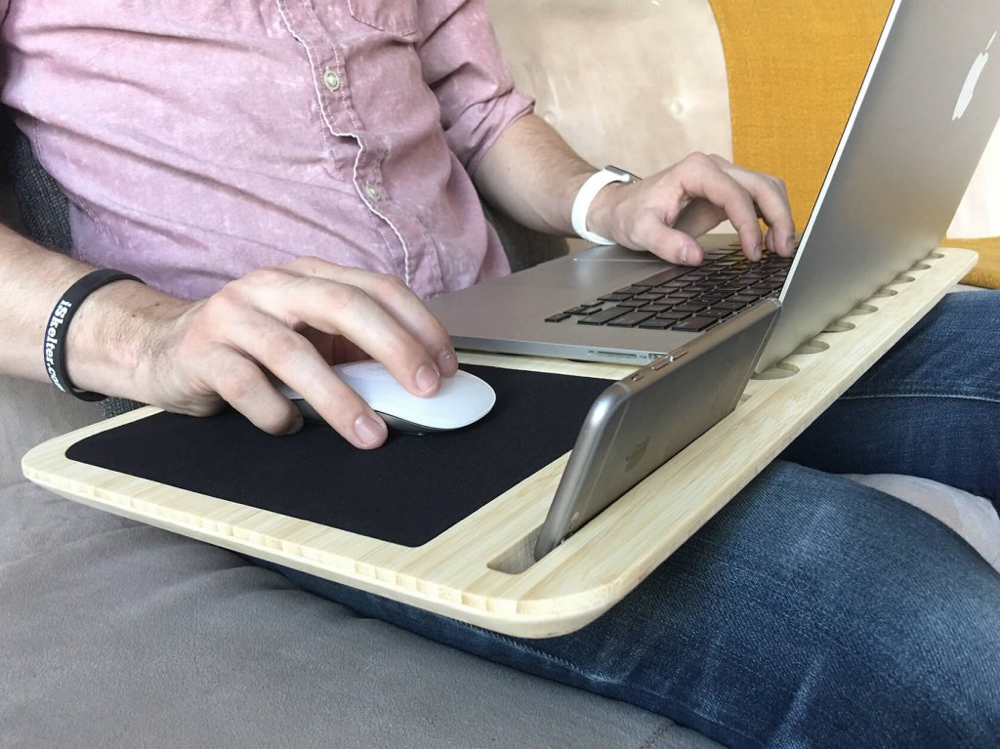 The Slate Mobile LapDesk is cut from a block of pure bamboo. It's lightweight (3.4 pounds), yet strong. The curves, air ventilation, and docking station are chiseled, hand-sanded, and polished to mirror the feeling of glass. A thick, heavy duty mouse pad is installed and sits flush against the surface of the slate.
Not only does the Slate Mobile LapDesk keep your lap cooler, its ventilation helps cool down a laptop. Any remaining heat gets absorbed within the natural bamboo body.
The Slate Mobile LapDesk isn't just for MacBook Pro users. It's compatible with 11-inch to 17-inch laptops, the iPad mini, the iPhone 6/6s, and 6/6s Plus, though its size makes it overkill for tablets and smartphones.
In fact, its the Slate's size that make deter some folks. It's 23.5 x 11.5 x .75 inches, so you're not going to be using it in, say, an airplane. However, for expanding your options on where you can work (or play) on your Mac laptop at home or in the office, the iSkelter product is a winner.
Apple World Today Rating (out of 5 stars): ★★★★★