The Rymet is an upcoming (due next month) competitor to the AZIO Retro Classic; see my review of the latter here. Both combine a retro look with modern features.
Both are "clackable," so if you don't like the loud clicking of vintage typewriters, you can skip the rest of this review because this product isn't for you. But if you like/don't mind the audible feedback, this is a fun keyboard to use — with one noticeable "gotcha." More on that in a sec.
The keyboard may look like it came out of your grandmother's closet, but it sports dynamic backlit keys and can work wirelessly or wired with a Mac, Windows, iOS, or Android gadget. It comes with an optional clip-in stand, upon which you can rest a smartphone or tablet on in landscape mode.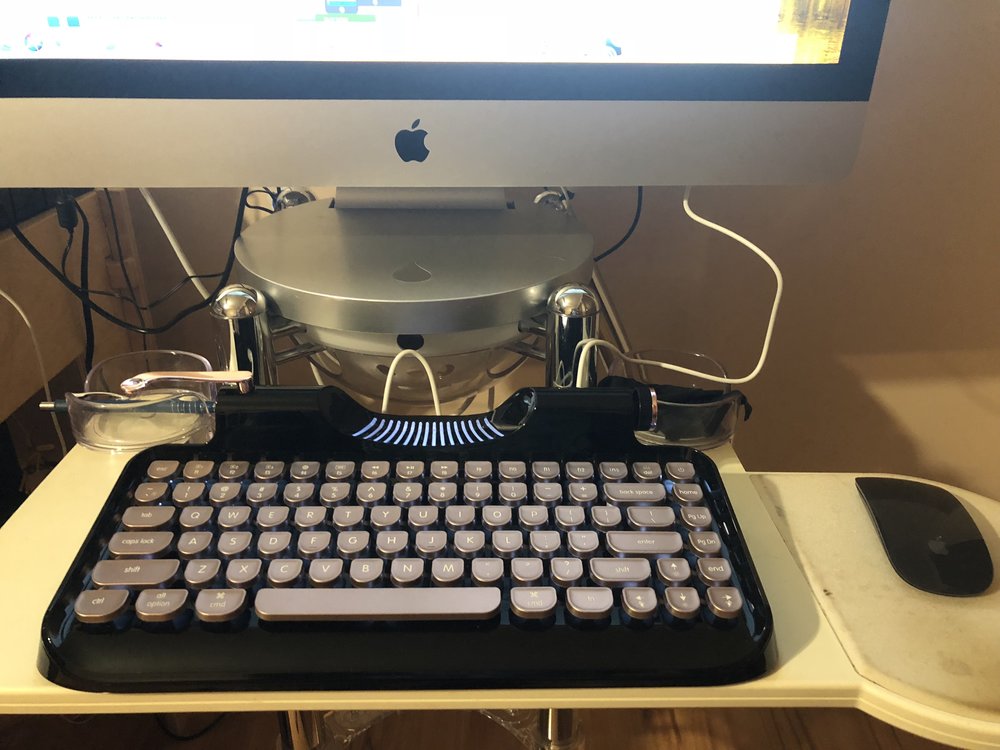 The saddle shape keycaps with Cherry MX switches are comfortable, and the Rymek offers commendable tactile feedback. If you find Apple's recent keyboards too "mushy" (though I don't), you'll appreciate the Rymek.
Above the keys are some mock type bars illuminated by white LEDs along with the key caps themselves. There's nothing practical about this addition, but it's a stylistic choice that adds to to the vintage vibe.
<!— code from sekindo - Appleworld.today In-Article - outstream —>

<!— code from sekindo —>
Using the Rymek requires a slight learning curve for Mac/iOS users. Typewriters, of course, don't have many of the keys on modern keyboards, so the Rymek uses a compact layout commonly referred to as a 75% layout. Some of the keys found on a Mac keyboard are in different locations on the Rymek, such as the delete key. And some have different markings; for example, the Return key is dubbed the Enter key on the Rymek.
Adapting to this wasn't difficult, but here's my main complaint about the Rymek: when it first arrived, I couldn't get it to work with my iMac, my MacBook, or iPad. I tried connecting it wirelessly and via USB, but repeated attempts proved fruitless. So I put it back in the box, thinking I had a defective unit.
Perhaps I did. Earlier this week, I decided to give it another go. And the Rymek worked just fine on all my devices. Go figure, but you have been warned.
With that warning, I admit that the Rymek is a fun, funky keyboard (when it works). As I sit here typing this review on it, I feel like a reporter from the 50s.
And if you wish to take it on the road, it comes with a 2,000 mAh rechargeable battery, which offers all-week battery life while away from a charger. The Rymek has special energy saving modes when it's in Bluetooth mode. After two minutes, the backlights will turn off; after 10 minutes, it will go to sleep. Any key will wake the keyboard.
You can order the Rymek at "early bird pricing" for $99 at its Indiegogo site; the regular price will be $199.
Apple World Today Rating (out of 5 stars): ★★★★