Visioneer's Patriot D40 is a color duplex desktop scanner and software package designed for scanning, storing and organizing up to 6,000 double-sided pages daily.
At $649, it's not inexpensive (nor designed for home use), but it packs a lot of useful features such a Visioneer's OneTouch technology, enabling the scanner to function at the touch of a single button. The bundle works with Mac and Windows computers.
In addition to government agencies, corporations within the healthcare, insurance, finance and manufacturing industries can benefit from the Patriot D40's 6,000 page-per-day scanning ability and reliable paper-handling of ID cards, checks, legal-sized documents and long medical forms. The D40 is designed with an extra-wide automatic document feeder to handle warehouse pick tickets, auto dealership contracts and similar forms used with line printers,.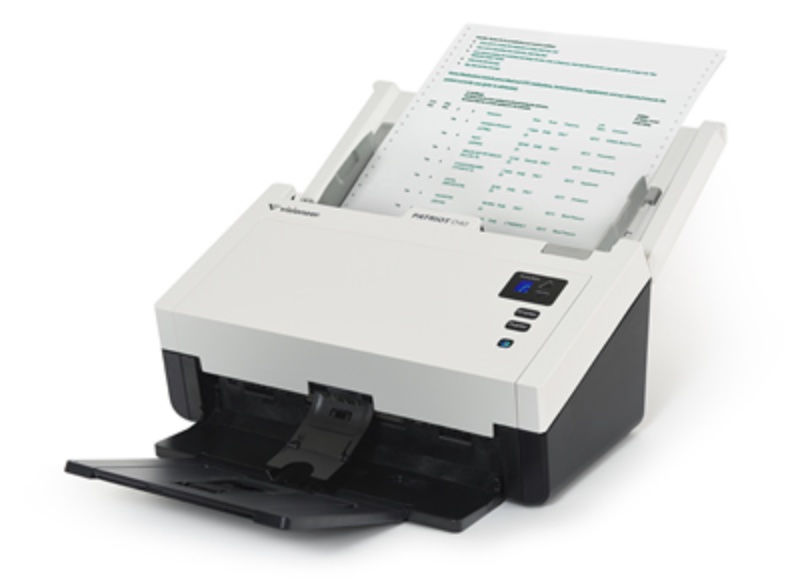 It can scan a form without customers first having to tear off the sides of the document, saving a lot of time and reducing the risk of ripping the document. The software crops the edges electronically to give you a proper-sized page.
The Patriot D40 will scan and image 60 double-sided color pages per minute (ppm) at 200 dpi resolution, or 40 double-sided color ppm at 300 dpi resolution. Optical resolution can be set for 200, 300 or 600 dpi, with Visioneer Acuity software enabling interpolated resolutions of 75, 100, 150, 400, 500 or 1200 dpi. Color output depth is 24 bits; grayscale output depth is eight bits.
In addition to paper originals, the Patriot D40 will scan images on plastic, such as ID cards, and photographs and can accept paper thicknesses in stock weights up to 110lb. The scanner will accept pages as small as 2" x 2.5", to a maximum size of 9.5" x 118". Connection to the computer is via USB, and a cable is included with the scanner. Its desktop footprint is 12.5" x 9.4".
For Mac computers, Visioneer provides its Mac TWAIN driver and Scan Utility software. Mac TWAIN provides all of the image cleanup features of Acuity —including improvements to visual clarity, auto-crop and auto-straighten — with no third party software needed. It also includes a digital imprinter to add text to your images, the ability to read barcode data (third party software IS required to interpret barcode data), and Merge 2 Sides.
If there's no scanning app on your Mac, a simple scan utility is included, allowing you to take full advantage of all of the drivers' features. You just set your driver preferences, select an image format (BMP, JPG, GIF, PDF, MPDF, TIF and MTIF), choose where you want to save your images to, and start scanning.
Apple World Today Rating (out of 5 stars): ★★★★
---
Like this article? Consider supporting Apple World Today with a $5 monthly Team AWT membership.