Apple hasn't shown the Mac mini love in a long time, but the tiny computer still has its fans. And those fans may find the $18.75 NewerTech HDMI Headless Video Accelerator useful.
It's a simple adapter that plugs into the mini's HDMI display port to make display-free "headless" Mac minis used as storage and media servers think that there's a display attached. Because of the Mac mini's compact size, superior storage, performance, and low cost, they're often used as "headless" networking, storage, production studio media, and home theater servers with no need for a monitor, keyboard or mouse.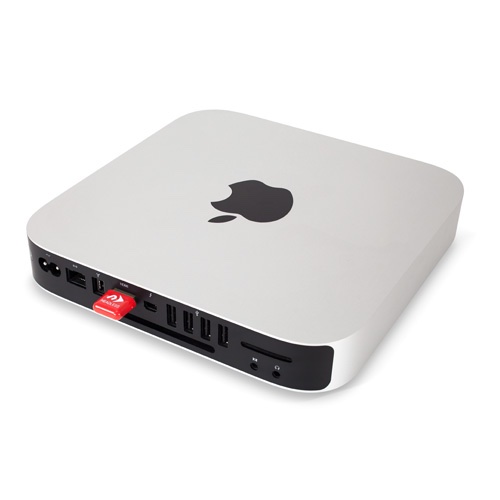 When the Mac mini is used without a monitor, its GPU isn't used. As a result, the interface lags, resulting in choppy screens and slow video, animation, cursor movements, menu navigation, and typing. Plugging the NewerTech HDMI Headless Video Accelerator into the HDMI port of the Mac mini solves this problem, engaging the GPU so your remote interface works exactly how you'd expect.
In the past, when using the Mac mini as a server, the best option was just to grin and bear the slow video performance whenever you needed to remotely access your mini. With the NewerTech HDMI Headless Video Accelerator, the Mac mini thinks there is a display attached, so you're back to the smooth OS X experience you want. Using the NewerTech adapter, video drivers are loaded and the GPU (graphics processing unit) is fully activated for 100% full video performance with no more choppy images or mouse lags.
Apple World Today Rating (out of 5 stars): ★★★★