With the second version of the Eve Energy device, you can switch your Eve devices on or off using Siri, Apple's "personal digital assistant." At $39.99, the new version is $10 bucks cheaper than the original. A redesign at a lower price is a pretty sweet deal.
It's compatible with HomeKit, Apple's framework that allows control of compatible home automation devices. Sporting a new, clean white, bar-style design that doesn't block neighboring outlets, the Eve Energy — which measures 2.8 x 1.5 x 1.6 inches — sports the same popular energy monitoring and autonomous scheduling features of the original model.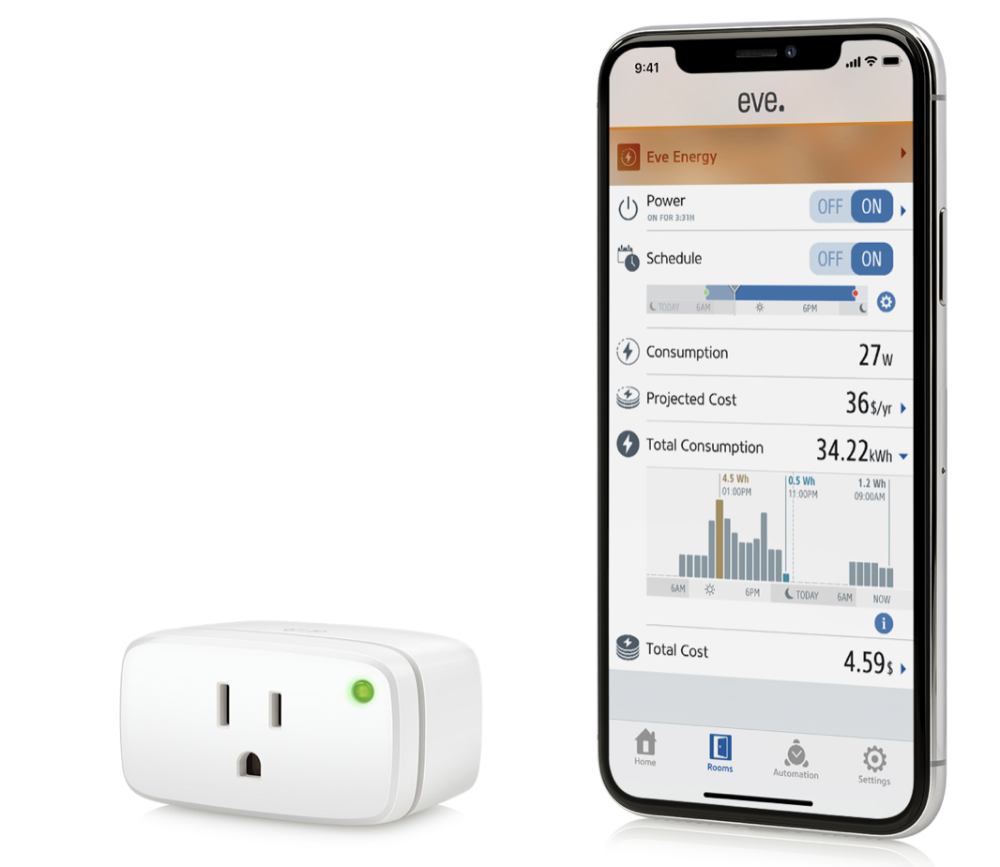 You can assign custom names to your devices, combine them into groups, and create scenes to control multiple home settings in just one step. For example, you can ask Siri to activate "Movie Night," "Dinner," "Bedtime" or any scene you create. Groups of HomeKit enabled lights or devices will then turn on or off in unison. 
You can switch your appliances on and off with a simple tap or via Siri,. You can use built-in schedules to automatically switch devices.
With the Eve Energy, you can also instantly see how much energy your devices are using in graphs by day, month or year. The accompanying Eve app displays energy consumption and even an estimate of the annual energy cost of the connected device. This can be useful in deterring ways to conserve power and save some cash. Who doesn't want to do both?
Also, Eve accessories are designed to safeguard personal data. They work with the iPhone and Home Hub, without a cloud or any registration. All collected data is fully encrypted, stored locally or on iCloud (HomeKit Secure Video). 
The Eve Energy requires an iPhone or iPad with iOS/iPadOS 13.2 or later. Automation and remote access requires a HomePod, Apple TV with tvOS 13.2 or later, or an iPad set up as a home hub. 
Apple World Today Rating (out of 5 stars): ★★★★